You are currently browsing the category archive for the 'Environment' category.
You've seen them lining the piers and waterfronts all over our fair harbor, standing for hours with their buckets and lures. Fishermen… there are loads of them here in the city. Question is, do they eat what they reap from the waters around New York City and is it safe to?
Fishermen in the area say it depends where you're casting your lines. Each angler will claim their spot to be clean. [New York Daily News]
New York Daily News: Some eat their catch from Jamaica Bay but turn their noses up at shad from the Hudson, due to the GE plants that left polluting PCBs in the banks further up.
Others enjoy the piers at Red Hook but consider that stream of water polluted when it becomes the East River, due to the effluence from Manhattan. With the water no longer shiny with oil, or filled with needles and condoms, more fishermen have joined the conversation.
These days, after decades of cleaning efforts, the city is covered in fishing spots. A culture of bait shops and lure crafters has arisen to take advantage of the cleaner waters.
Weekenders fishing to relax after 80-hour weeks share brine and piers with undocumented immigrants with families to feed.
Those who eat their catch often do so despite the state's warnings. There are things like crabs and eels that we should never eat, according to the authorities, from places I saw men crabbing and even looking for mussels.
Then there are fish that we should only eat in limited amounts — or not at all if pregnant. Some of the larger fish live for 30 years, so they have been through dark, dirty water full of antidepressants, birth control chemicals and whatever else New Yorkers flush. Read more by @DanGenis at the New York Daily News here…
by Mai Armstrong for the Working Harbor Committee
Folks over in the "newly hot" Gowanus neighborhood has been getting a little more "grit" than they bargained for, according to The New York Post.
Every time it rains around here, a foul-smelling brown goo bubbles up from the drains in their homes and businesses.
The New York Post: "It's a very weird goop," said Kitty Hernandez, owner of the Brooklyn Colony bar on Fourth Avenue near Carroll Street.
"Just yesterday, I had to pull a drain out because there was a foaming goo coming out of it . . . It overwhelmed the whole bar. I think it was sewage. The smell was horrible," she said.
The area around the Gowanus Canal is no stranger to constant flooding, but residents and business owners say that it's getting worse.
Angry business owners claim the city has done nothing to flush away the putrid problem — which has been described as smelling "like rotten eggs" "poop" and "barf."
"It's bad. We keep complaining to the city and nothing gets done. They keep promising they're going to fix it and nothing gets done, " Rodriguez said.
"It comes out brown and you say, 'Oh my God.' My tenants called 311 to find out what's going on," said Joseph Internicola, 67, the landlord of a building on Union Street near Bond Street.
He added, "You have a 700-unit apartment building going up. How are they going to handle it? We're all going to get backups. It's crazy." Read more at The New York Post here…

by Mai Armstrong for the Working Harbor Committee
PortSide NewYork, a nonprofit maritime organization in Red Hook, Brooklyn will be having a massive "heavy metal" sale of maritime hardware this Sunday, from 11am – 4pm, as reported by DNAinfo.
Head over to Red Hook this Sunday and get yourself a Crosby Hook, or a 4-foot tall turnbuckle – there's 3 shipping containers full and everything has to go!
DNAinfo: "This is a gold mine for people who repurpose," said Carolina Salguero, the organization's founder and director. Funds raised will benefit the nonprofit and its Hurricane Sandy recovery efforts.
All of the items — which were donated by a local shipping supplies firm that shut down — are in working condition and can still be used in the marine industry, Salguero said.
Single souvenirs like the Crosby Hook — which has become the informal symbol of Red Hook — will also be available in large numbers. "A lot of local people are interested in hooks," she said.
PortSide NewYork's "Heavy Metal" fundraising sale will be held on July 27 from 11 a.m. to 4 p.m. at the Pier 11 loading dock in Red Hook.
Read more at DNAinfo here or visit Portside New York for more information.
by Mai Armstrong for the Working Harbor Committee
17 years ago,  62 shipping containers-full of 5 Million Lego pieces ended up in the brink when they were lost in rough seas. [The Maritime Executive]
Hundreds of thousands of tiny Legos have been washing ashore ever since.
a
The Maritime Executive: On February 13, 1997, a shipping container from the Tokio Express holding nearly five million pieces of Lego fell into the sea after being hit by a wave. Since then, countless pieces of the plastic toys have showed up along UK beaches providing scientists with new insight into how ocean tides function.
a
The tiny Lego pieces have been reported in Cornwall, Devon, Ireland and Wales. Many of the Lego are maritime-related, and seem to be very rare pieces. Read more at The Maritime Executive here…
a
Tracey Williams, a British writer and beachcomber who would walk the beaches near her South Devon UK home, started The Lego Lost At Sea facebook page, documenting her tiny plastic maritime finds. She now lives in Cornwall, UK where she continues to find washed up Lego bits everyday.
Just 3 more days until the Metropolitan Waterfront Alliance presents their annual City of Water Day festival!
Every July, the MWA hosts City of Water Day – a full day festival, filled with free waterfront activities – boat rides, live music, dockside tours, great food and more!
There's even a cardboard-kayak race – so much fun for the whole family.
City of Water Day: MWA's City of Water Day Festival is a free day-long celebration that draws thousands of people from throughout the NY-NJ metropolitan region to participate in hundreds of unique, fun, and educational waterfront activities held all around the harbor.
Organized by MWA and its 700 Alliance Partners, the events run between 10am – 4pm this Saturday July 12th, 2014. 
Check out the many, activities at the festival and in your own neighborhood! Click here for directions to the various locations.
by Mai Armstrong for the Working Harbor Committee
The 8 Bridges Hudson River Swim covers a mind-blowing 120 miles and is the longest marathon swim in the world.
a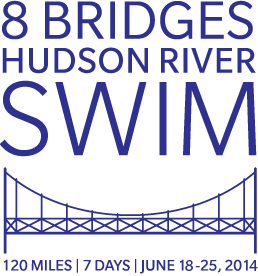 a
Starting from Rip Van Winkle Bridge up in  the Catskills, the 7 day-7 stage swim travels down the length of the mighty Hudson River to the gateway of the Atlantic Ocean at the Verrazano Narrows Bridge.
The marathon swim, now in its fourth year is hosted by CIBBOWS , a not-for-profit organization dedicated to "being the very best New York City resource for open water swimmers".
In 2013, the World Open Water Swimming Organization (WOWSA) recognized 8 Bridges as one of Americas top 100 open water swims for 2014. [8Bridges.org]
8Bridges.org: For one week, each day's marathon swim begins with the ebb tide at one bridge and ends at the next, covering distances ranging from 13.2 miles to 19.8 miles. Swimmers can participate as solos or relays  in one to all of the seven stages.
The swim strings together the Rip Van Winkle Bridge, Kingston-Rhinecliff Bridge, Mid-Hudson Bridge, Newburgh-Beacon Bridge, Bear Mountain  Bridge, Tappan Zee Bridge, George Washington Bridge, and the Verrazano Narrows Bridge.
8 Bridges partners with Riverkeeper and safety vessel Launch 5 to promote the health and enjoyment of the Hudson River.
The fourth seven-day, seven-stage, 8 Bridges Hudson River Swim will take place from June 18 – June 25 2014. For more info visit 8Bridges.org.
by Mai Armstrong for the Working Harbor Committee
New York City Economic Development Corporation (NYCEDC) has issued a request for proposals for detailed feasibility studies of storm surge barriers at Gowanus Canal and Newtown Creek.
During Hurricane Sandy, the waters of Newtown Creek and the Gowanus Canal flooded the neighborhoods of Gowanus, Red Hook, Greenpoint, East Williamsburg, Bushwick, Maspeth, and Long Island City. There was extensive damage to homes, businesses and infrastructure.
Daniel Zarrilli, Director of the Office of Recovery and Resiliency: "Hurricane Sandy didn't just expose our vulnerabilities along the ocean, it also had a devastating impact along inland waterways in all five boroughs.
Storm surge barriers along inland waterways would play a vital role in the City's resiliency efforts and, in coordination with the ongoing Superfund work, would reduce flood risk in these vulnerable commercial and residential neighborhoods, providing new opportunities to transform the city and make our neighborhoods safer."
Download RFP (PDF) here. Submission Deadline: July 15, 2014 at 4:00 pm
Read more of the official Press Release here…
by Mai Armstrong for the Working Harbor Committee