You are currently browsing the category archive for the 'Environment' category.
Just 3 more days until the Metropolitan Waterfront Alliance presents their annual City of Water Day festival!
Every July, the MWA hosts City of Water Day – a full day festival, filled with free waterfront activities – boat rides, live music, dockside tours, great food and more!
There's even a cardboard-kayak race – so much fun for the whole family.
City of Water Day: MWA's City of Water Day Festival is a free day-long celebration that draws thousands of people from throughout the NY-NJ metropolitan region to participate in hundreds of unique, fun, and educational waterfront activities held all around the harbor.
Organized by MWA and its 700 Alliance Partners, the events run between 10am – 4pm this Saturday July 12th, 2014. 
Check out the many, activities at the festival and in your own neighborhood! Click here for directions to the various locations.
by Mai Armstrong for the Working Harbor Committee
The 8 Bridges Hudson River Swim covers a mind-blowing 120 miles and is the longest marathon swim in the world.
a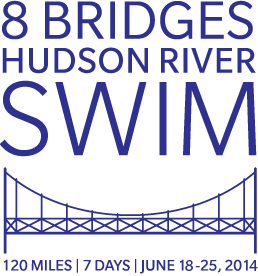 a
Starting from Rip Van Winkle Bridge up in  the Catskills, the 7 day-7 stage swim travels down the length of the mighty Hudson River to the gateway of the Atlantic Ocean at the Verrazano Narrows Bridge.
The marathon swim, now in its fourth year is hosted by CIBBOWS , a not-for-profit organization dedicated to "being the very best New York City resource for open water swimmers".
In 2013, the World Open Water Swimming Organization (WOWSA) recognized 8 Bridges as one of Americas top 100 open water swims for 2014. [8Bridges.org]
8Bridges.org: For one week, each day's marathon swim begins with the ebb tide at one bridge and ends at the next, covering distances ranging from 13.2 miles to 19.8 miles. Swimmers can participate as solos or relays  in one to all of the seven stages.
The swim strings together the Rip Van Winkle Bridge, Kingston-Rhinecliff Bridge, Mid-Hudson Bridge, Newburgh-Beacon Bridge, Bear Mountain  Bridge, Tappan Zee Bridge, George Washington Bridge, and the Verrazano Narrows Bridge.
8 Bridges partners with Riverkeeper and safety vessel Launch 5 to promote the health and enjoyment of the Hudson River.
The fourth seven-day, seven-stage, 8 Bridges Hudson River Swim will take place from June 18 – June 25 2014. For more info visit 8Bridges.org.
by Mai Armstrong for the Working Harbor Committee
New York City Economic Development Corporation (NYCEDC) has issued a request for proposals for detailed feasibility studies of storm surge barriers at Gowanus Canal and Newtown Creek.
During Hurricane Sandy, the waters of Newtown Creek and the Gowanus Canal flooded the neighborhoods of Gowanus, Red Hook, Greenpoint, East Williamsburg, Bushwick, Maspeth, and Long Island City. There was extensive damage to homes, businesses and infrastructure.
Daniel Zarrilli, Director of the Office of Recovery and Resiliency: "Hurricane Sandy didn't just expose our vulnerabilities along the ocean, it also had a devastating impact along inland waterways in all five boroughs.
Storm surge barriers along inland waterways would play a vital role in the City's resiliency efforts and, in coordination with the ongoing Superfund work, would reduce flood risk in these vulnerable commercial and residential neighborhoods, providing new opportunities to transform the city and make our neighborhoods safer."
Download RFP (PDF) here. Submission Deadline: July 15, 2014 at 4:00 pm
Read more of the official Press Release here…
by Mai Armstrong for the Working Harbor Committee
WHC News Release:
The Working Harbor Committee presents a timely, educational and entertaining program that answers the question: What happens to a ship after it sinks?
Special Program May 6 in Manhattan.

Unfortunately, some ships come to grief. Witness the tragic sinking of the South Korean ferry Sewol on April 16, or the doomed cruise ship Costa Concordia that ended up on the rocks off Giglio, Italy in 2012.
When there is trouble on the water the marine salvage industry arrives with divers, engineers and some amazing expertise and heavy equipment to protect the environment and save what can be saved of the ship.
The nonprofit Working Harbor Committee of New York and New Jersey will present an evening program on May 6 that will showcase this little known, but vitally important, arm of the maritime industry with dramatic films of actual salvage operations and talks by some of the salty professionals who work in the industry.
Getting It Up!
The Fascinating World of Marine Salvage
Tuesday, May 6, 2014
6 – 9 p.m.


Community Church of New York
40 E. 35th Street
New York, NY 10016
Tickets $25, discounts for seniors & students, are available at www.workingharbor.org or 212 757 1600.
Refreshments will be served.
a
Film clips that rival the intensity of scenes in "The Deadliest Catch" will show:
Historic footage of the raising of the SS Normandie, a.k.a. World War II troop carrier USS Lafayette, which burned and sank in 1942 at Pier 88 North River, NYC, the present-day Passenger Ship Terminal;
The dismantling and salvage of the freighter New Flame off the coast of Gibraltar;
The raising of the cruise ship Costa Concordia last September – the largest salvage operation in history.
a
A panel of three salvage industry professionals will give a brief overview of the industry, describe their work as salvage masters in some hands-on projects, and answer questions.
Panel members are:
Paul Hankins, president of the American Salvage Association and VP, Salvage Operations, DonJon Marine;
 Rik van Hemmen, President and Senior Partner, Martin, Ottaway, van Hemmen & Dolan, Inc., a naval architect and engineer who consults on salvage jobs;
John Gladsky, president of Gladsky Marine, an independent salvage company based in Long Island, who owns and operates the largest crane barge in the New York area.
Capt. Betsy Frawley Haggerty, an award-winning maritime journalist who is member of the Board of Directors of the Working Harbor Committee, will moderate.
The mission of the Working Harbor Committee – a NYS not-for-profit organization – is to strengthen awareness of the working harbor's history and vitality today, and its opportunities for the future, by involving people in learning how the harbor works and what it does, educating people in the rich and challenging history of the harbor, and making people aware of the need to build and sustain the working harbor. We accomplish this with our Hidden Harbor Tours® and other programs. Visit www.workingharbor.org
by Capt. Betsy Frawley Haggerty for the Working Harbor Committee
News Release:
Metropolitan Waterfront Alliance's 2014 Waterfront Conference will explore progress on the waterfront over the last 12 months with a special focus on the remarkable grassroots, community-based waterfront plans developed before and after Superstorm Sandy, and take an early look at the de Blasio administration's approach to waterfront policy.
Taking place aboard the magnificent Hornblower Infinity, this year's conference focuses on community leadership and community-based planning.
The waterfront is a shared resource with uses and potential benefits for all people and all sectors.
Additionally, we are faced with the ever-increasing threats of coastal flooding, sea level rise, and climate change.  The need to ensure equity dictates that we build for resilience in all waterfront areas, from industrial to residential to parkland, so that they are protected and active.  We must continue to make equity and resilience the twin goals of every project on the waterfront.
We welcome your participation in this important dialogue.
Program Schedule:
8:00 – 9:00am Registration/Board Boat
9:00 – 9:30am Keynote Address – Chris Ward, Executive Vice President, Dragados
9:30 – 10:45am Plenary 1
After the Storm: It's All About Implementation
10:45 – 11:00am Break
11:00 – 12:15pm Plenary 2
Sandy Changed Everything.  Or Did It?<
12:15 – 1:30pm Lunch Aboard the Hornblower Infinity
12:25pm Boat Departs
1:30 – 2:45pm Panel Discussions
Panel 1: Getting to Transit Equity via Ferries
Panel 2: Waterfront Edge Design Guidelines: An East River Laboratory
2:45 – 3:00pm  Break
3:00 – 4:15pm  Panel Discussions
Panel 3: Fishable, Swimmable, and Paddle-able
Panel 4: Pulling Back the Curtain: The Working Waterfront, Innovation and Education
4:15 – 5:00pm  Cocktails and Awards
WHEN: April 24, 2014 from 9:00am – 5:00pm
WHERE: Aboard the HORNBLOWER INFINITY (Hornblower Landing at Hudson River Park's Pier 40, cross at W Houston St)
Pete Seeger and his wife Toshi will be celebrated at this summers annual Clearwater Festival, June 21-22. [CBS New York]
In the 1960′s, when the Hudson River was more polluted with toxins and sewage, Seeger opined that building a replica of an 18th-19th century sloop would draw people to the river and be moved to preserve it.
Pete's efforts to clean up the Hudson River lead to him holding a series of concerts to raise funds to "build a boat to save the river".
Thus the annual musical and environmental festival was founded. Officially known as Clearwater's Great Hudson River Revival, the two-day event this year in Croton-on-Hudson will celebrate the couples legacy.
Some of this years performers include Lucinda Williams, Norah Jones, Rufus Wainwright. All proceeds benefit the Hudson River Sloop Clearwater – to continue Pete and Toshi's legacy to protect the river and its adjacent waterways and wetlands.
Purchase tickets at ClearwaterFestival.org
by Mai Armstrong for Working Harbor Committee
Big News!
"Graves of Arthur Kill"  will make its World Premiere on Wednesday, May 7 at the Art of Brooklyn Film Festival. The 32 minute documentary – directed by Will Van Dorp, aka Tugster – will be one of 5 short films shown on Opening Night.
There will be a prescreening reception which starts at 7 p.m. and the films begin at 8 p.m. Click here for tickets.
Brooklyn Heights Cinema
70 Henry Street
Brooklyn, NY 11201
Subway: A/C to High Street or 2/3 to Clark Street
MAP
a
a
GRAVES OF ARTHUR KILL
World Premiere

Documentary, 32 min. USA
Directed by Will Van Dorp
Though it's been described as an "accidental museum," the graveyard of ships at New York City's southernmost point isn't on any tourism maps. The site is owned by a metal recycling company and visitors are turned away. But this bone yard begs for attention. Rusty tugboats sit lopsided in its muddy waters. Rotting wooden skeletons of old barges dot the shoreline. Collectively, these crumbling vessels seem like haunting maritime sculptures in a massive art installation.
Will Van Dorp is a photographer, author and English professor at Union County College in Elizabeth, N.J. He is also a knowledgeable observer of what he calls New York City's "sixth borough," the waters in and around the Port of New York. He chronicles much that happens in these waters in his "Tugster" blog, which was featured in a 2011 New York Times profile.