You are currently browsing the category archive for the 'History' category.
Have you read Rick Spilman's novel Hell Around The Horn?
It's a thriller that tells of the captivating story about a young ship's captain and his family who sets sail on Lady Rebecca – a 1905 windjammer, from Wales bound for Chile, by way of Cape Horn in the Age of Sail. Based on an actual voyage, and written with historical accuracy, Rick draws you into the world of whipping westerly winds, mutiny and survival on the high seas. Read tugster's review here.
A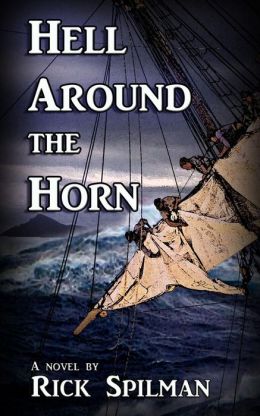 a
Overview
Hell Around the Horn is a nautical thriller set in the last days of the great age of sail. In 1905, a young ship's captain and his family set sail on the windjammer, Lady Rebecca, from Cardiff, Wales with a cargo of coal bound for Chile, by way of Cape Horn. Before they reach the Southern Ocean, the cargo catches fire, the mate threatens mutiny and one of the crew may be going mad, yet the greatest challenge will prove to be surviving the vicious westerly winds and mountainous seas of the worst Cape Horn winter in memory. Based on an actual voyage, Hell Around the Horn is a story of survival and the human spirit against overwhelming odds.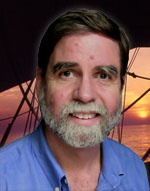 a
Rick Spilman is an acclaimed maritime author and Old Salt Blogger. If you haven't picked up this book yet, I suggest you click-through to Amazon or Barnes & Noble. It's available as an ebook for Kindle, and in paperback.
by Mai Armstrong for Working Harbor Committee, hat tip Robert Weisbrod Chair, Working Harbor Committee
This story tells of Coney Island's last lighthouse keeper, a project by Columbia School of Journalism students Max Kutner and Johannes Musial.
A nostalgic and personal tale told by Scott Schubert whose grandfather Frank, was the last lighthouse keeper in the nation.
New York Daily News: Frank Schubert — the country's last civilian lighthouse operator — spent more than four decades operating the Coney Island Lighthouse, an 80-foot structure that helped channel ships through the inlet to one of the nation's busiest ports.
a
The four-minute film was produced as a class project initiated by Columbia University journalism students Max Kutner and Johannes Musial, who chalked up their decision to shine a light on Schubert's legacy to their fascination with some of New York's ephemeral facets.
a
"I'm really interested in the New York waterfront and jobs that no longer exist anymore," Kutner explained, adding that it took the duo several months to track down all the information about Schubert's life. Read more at the New York Daily News here…
by Mai Armstrong for Working Harbor Committee
Sorry for the late post this morning, sometimes, life-demands trump blogging schedules. Still, I wanted to share this lovely story and video with you – albeit a bit late.
Here's a look at a day in a sailor's life aboard the aircraft carrier USS Theodore Roosevelt. It's a glimpse at the Navy from an unexpected perspective.
Watching this USS Theodore Roosevelt video made me smile. I hope it makes you smile too.
a
by Mai Armstrong for the Working Harbor Committee
An undersea volcanic eruption off the coast of Japan sprouted a brand new island from the waters around the Ogasawara island chain in recent weeks.
Active lava flow has grown the new island quite rapidly. Expanding to merge with neighboring Nishinoshima island, a new landmass has emerged with a familiar silhouette.
It's Snoopy!
Watch a time-lapse of the action from euronews:
a
Satellite images of the world's favorite puppy have been flooding the interwebs, delighting a growing fan-base online. But experts say that since the volcano remains active and highly volatile, the newly merged islands may not look like the loveable comic strip dog from Peanuts for much longer. Read more here…
by Mai Armstrong for the Working Harbor Committee
a
Happy New Year!




from all of us at the Working Harbor Committee
a
a
Wishing everyone a happy, healthy, harbor-filled 2014!
Here is a lovely piece of historic footage of a trip on the Staten Island Ferry from the 1960′s that I hope you will enjoy. From the Collection of the Prelinger Archives
Cheers!
by Mai Armstrong for the Working Harbor Committee
It all started back in 1955, with a misprint on a Christmas Sears advertisement offering children the chance to talk to Santa Claus.
"Call me on my private phone and I will talk to you personally any time day or night" proclaimed the smiling visage of Jolly Old St. Nick in the Colorado Springs newspaper.
Problem was Santa's phone number, printed prominently on the advertisement, was wrong.
The "Call Santa" phone number in the ad connected instead to the "hotline" – the top-secret line that only rang in the case of national crisis at the Continental Air Defense Command (NORAD's predecessor).
U.S. Air Force Col. Harry Shoup, answered the first call on the "hotline" fearing the worst.
To his surprise he heard a little voice ask falteringly, "Is this Santa Claus?"
Annoyed, the colonel answered gruffly thinking it was some sort of prank. But when the squeaky little voice started to cry and ask him if he was one of Santa's elves, he softened when he realized that it was no jokester.
Somehow, there was a child on the Air Defense "hotline" looking to speak to Santa Claus.
Rather than saying they had reached a wrong number, Col. Shoup opted to play along. "Just pretend you're Santa" he said to his staff as they answered a stream of calls with Santa-related questions, and provided updates on Santa's Christmas Eve progress from the North Pole.
Each year, countless volunteers from our Army, Navy, Air Force and Marine Corps and their families man the phones and tracking instruments on Christmas Eve.
You can call 1-877-HI-NORAD to find out where Santa is, and of course you can track Santa's epic annual journey on the Official NORAD Santa Tracker online.
Source: Snopes.com
by Mai Armstrong for the Working Harbor Committee.
The lure of our shores have sparked the imaginations of two architecture students in faraway Texas. DNAinfo reports: School of Architecture students at the University of Texas Austin, Ian Ellis and Frances Peterson have drawn up ideas for a school on North Brother Island.
North Brother Island has been off-limits to the public since 1963, but many trespassers explore (and disturb) the now protected bird breeding grounds. The Texans want to repurpose the decaying structures of the abandoned smallpox hospital that once housed infamous Typhoid Mary, into a school for autistic kids.
Although an interesting concept, it has not been properly researched. The pair haven't discussed their plan with any regulatory agencies, nor have they estimated the cost of a project like this. In fact, the students have not yet visited North Brother Island.
They also haven't consulted with special-needs educators about student safety. Children with Autism have high incidences of autism wandering, a concern sharply emphasized by missing Avonte Oquendo, a non-verbal student with autism who wandered from his Queens school in October.
He has still not been found.
DNAinfo: Two architecture students have an ambitious plan for North Brother Island, an abandoned, overgrown patch of green in the East River — they'd like to build a school for children with autism there.
The designers dreamed of a school that would re-use five existing structures for potentially 208 students and 52 instructors, who would travel to the island via ferry. Their commute would take 10 minutes from Barretto Point Park and Soundview Park, but piers would need to be built.
Ellis and Peterson haven't estimated how much such a project would cost, though recognize it would be quite "an undertaking".
"We still need to collaborate further with not only the agencies we propose to inhabit the island, but also with other specialists in seeing what developing a project like this would really entail," Ellis said.
They haven't had a chance to visit the island — yet.
by Mai Armstrong for the Working Harbor Committee
On this snowy Sunday morning, a little Summertime reminiscing as we shovel sidewalks and driveways and scrape away icicles from yesterdays storm.
Found on YouTube, this lighthearted footage of summer fun in Coney Island from the 1940′s via albertdiner. I particularly love the song in Yiddish/English by The Barry Sisters.
a

Enjoy!
Mai Armstrong for the Working Harbor Committee
Those familiar with Newtown Creek, know about the spilled oil that lurks in and under the watershed. But what other vile and toxic substances lie in the murky waters?
The federally designated superfund site has been undergoing Phase I testing by the EPA for the past year and a half. Thousands of sediment samples have been taken, and there are several more years of field research in store before a complete analysis is undertaken.
The floating garbage in the troubled waterway is the just tip of the rubbish heap. Newtown Creek has seen 150 years of pollution from copper factories, bone-boilers, offal renderers and the like. Not to mention the continuous stream of raw human sewage that flows into Newtown Creek to this day.
There's a lot of bad stuff in there. And the worse part is, we don't even know how bad… yet.
Peter Andrey Smith/New York Magazine: Among America's most polluted waterways is an East River estuary between Brooklyn and Queens. For 220 years, man filled Newtown Creek with so much industrial ick that the EPA declared it a Superfund site in 2010.
EPA contractors are still working through it, but crews expect to find a range of harmful substances, including arsenic, polychlorinated biphenyls, and cesium-137, a leftover from atmospheric testing of nuclear weapons in the sixties… Read more here…

by Mai Armstrong for the Working Harbor Committee