You are currently browsing the category archive for the 'History' category.
James M. Lindgren, author, historian and Professor of History at SUNY Plattsburgh, has penned a new book about the South Street Seaport.
Preserving South Street Seaport: The Dream and Reality of a New York Urban Renewal District – tells of the fight to preserve the character of what remains of the once bustling district.
On April 21, the author will be giving two book talks, one hosted by the National Maritime Historical Society and the other, the New York Preservation Archive Project.
The illustrated talks will chronicle the tenuous rebirth of the neighborhood, including the story of the South Street Seaport Museum, real estate market booms and collapses, controversial developments, and years of efforts by preservationists, developers, bankers, politicians, and museum administrators and recounts how the "street of ships" and the dynamic neighborhood emerged.
Book Talk hosted by NMHS, at SSSM's Bowne Printers
Monday, April 21, 2014, 4:00 p.m.
Bowne Printers: South Street Seaport Museum
209 Water Street
New York, NY 10038
Click here for more info or RSVP betsy.steve@nyu.edu
and
Book Talk hosted by NYPAP, at The Paris Cafe
Monday, April 21, 2014
Doors open at 6:00 p.m. / Book talk at 7:00 p.m
The Paris Cafe
New York, NY 10038
To register, please call 212-988-8379 or email info@nypap.org
by Mai Armstrong for Working Harbor Committee
Some ships come to grief, and when they do the salvage industry is there to right the wrongs.
Join us for the Working Harbor Committee's annual spring program showcasing this little known, but vitally important, arm of the maritime industry with dramatic films of actual salvage operations and talks by some of the salty professionals who work in the industry.
Tuesday 6 May 2014
6 – 9 p.m.
Community Church of New York
40 E. 35th Street
New York, NY 10016
Refreshments will be served
See dramatic footage of:
the raising of the SS Normandie which burned and sank at Pier 88 North River in 1942
the dismantling and salvage of the freighter, New Flame, off the coast of Gibraltar
and largest salvage operation in history – the raising of the cruise ship Costa Concordia last September off Giglio, Italy
a
A panel of three salvage industry professionals will give a brief overview of the salvage industry, describe their work as salvage masters in some hands-on projects, and answer questions. Reserve your seat today!
by Capt. Betsy Frawley Haggerty for the Working Harbor Committee
Pete Seeger and his wife Toshi will be celebrated at this summers annual Clearwater Festival, June 21-22. [CBS New York]
In the 1960′s, when the Hudson River was more polluted with toxins and sewage, Seeger opined that building a replica of an 18th-19th century sloop would draw people to the river and be moved to preserve it.
Pete's efforts to clean up the Hudson River lead to him holding a series of concerts to raise funds to "build a boat to save the river".
Thus the annual musical and environmental festival was founded. Officially known as Clearwater's Great Hudson River Revival, the two-day event this year in Croton-on-Hudson will celebrate the couples legacy.
Some of this years performers include Lucinda Williams, Norah Jones, Rufus Wainwright. All proceeds benefit the Hudson River Sloop Clearwater – to continue Pete and Toshi's legacy to protect the river and its adjacent waterways and wetlands.
Purchase tickets at ClearwaterFestival.org
by Mai Armstrong for Working Harbor Committee
Big News!
"Graves of Arthur Kill"  will make its World Premiere on Wednesday, May 7 at the Art of Brooklyn Film Festival. The 32 minute documentary – directed by Will Van Dorp, aka Tugster – will be one of 5 short films shown on Opening Night.
There will be a prescreening reception which starts at 7 p.m. and the films begin at 8 p.m. Click here for tickets.
Brooklyn Heights Cinema
70 Henry Street
Brooklyn, NY 11201
Subway: A/C to High Street or 2/3 to Clark Street
MAP
a
a
GRAVES OF ARTHUR KILL
World Premiere

Documentary, 32 min. USA
Directed by Will Van Dorp
Though it's been described as an "accidental museum," the graveyard of ships at New York City's southernmost point isn't on any tourism maps. The site is owned by a metal recycling company and visitors are turned away. But this bone yard begs for attention. Rusty tugboats sit lopsided in its muddy waters. Rotting wooden skeletons of old barges dot the shoreline. Collectively, these crumbling vessels seem like haunting maritime sculptures in a massive art installation.
Will Van Dorp is a photographer, author and English professor at Union County College in Elizabeth, N.J. He is also a knowledgeable observer of what he calls New York City's "sixth borough," the waters in and around the Port of New York. He chronicles much that happens in these waters in his "Tugster" blog, which was featured in a 2011 New York Times profile.
Many of us have been waiting for the arrival of the USS Slater for many months. Captain Maggie Flanagan, marine educator and WHC steering committee member, first told me about her impending visit to Caddell's at WHC's end-of-the-year meeting, back in December.
The WWII destroyer escort was supposed to make the trip in January, but the frozen grip of one of the coldest winters in recent years pushed that back to February… and then March… [Slater Signals]
Now with the ice safely melted, the USS Slater will be making her way down the Hudson River from Albany to Staten Island today!
The grand, grey lady will be escorted by two tugboats and the journey downriver is expected to take 12+ hours all told.
Ed Zajkowski posted this tip for tracking the warships journey online on USS Slater's facebook page. Slater has no transponder, so to follow her progress down the Hudson River, go to www.marinetraffic.com – filter out all vessels except TUGS, and type in the name "MARGOT". Her transponder should be active Sunday AM.
I just got word from John Skelson that the transport is underway! Hopefully she reaches the KVK before darkness falls! It's a gorgeous day, perfect ship spotting weather! I hope you all share your photos with us in WHC's flickr photo pool – I can't wait to see them!
Did you know? The USS Slater's dry-dock repair project is being completely funded by donations from folks like you! You can help by donating here.
by Mai Armstrong for Working Harbor Committee, hat tips to Capt. Maggie Flanagan, John Skelson, John McCluskey and Will Van Dorp for all their help with research and intel.
The boat graveyard in Rossville on the Arthur Kill is a ghostly stretch of rusting hulls, empty wheelhouses and sunken wrecks – a haunting and breathtaking vista that only a few even know exist.
I had heard Will had been working on something cool, and indeed he was. Will Van Dorp, a maritime historian and writer together with and Gary Kane a former Associated Press editor were making a documentary exploring the history of the Staten Island's Boat Graveyard.
"Graves of Arthur Kill," is a 32-minute documentary about the maritime dumping ground in Rossville, and will have its premier Staten Island showing on April 2 at the Seaman's Society for Children & Families, with help from the soon-to-open National Lighthouse Museum, as reported by DNAinfo.
Mr Kane's curiosity was piqued when he saw some of Will's photos on the disintegrating ships on his blog, Tugster.
DNAinfo: "What caught my eye was the way they look, I thought it's just fascinating how they look like ghost ships or crumbling wrecks. The history of them was the bonus. I thought this could translate into really compelling footage for a documentary."
a
Watch the trailer:
a
Kane, a former Associated Press editor, tracked down the man behind the images: Will Van Dorp, a creative writing professor in New Jersey with a passion for maritime history that led him to photograph the boats in 2010. Van Dorp, who lives in Kew Gardens, Queens, publishes the blog Tugster, which is dedicated to New York's waterways — an area he's dubbed the city's "sixth boro."
Together, the pair set out in a row-boat to film the ships. Read more at DNAinfo here…
The Staten Island screening of "Graves of Arthur Kill" will be on April 2, at the Seaman's Society for Children & Families, 50 Bay St., Staten Island, starting at 6 p.m. Tickets are $10.
by Mai Armstrong for Working Harbor Committee. Thanks to Mitch Waxman of Newtown Pentacle for guest blogging while I was out-of-town.
Could the Gowanus Canal and it's industrial surrounds soon be designated a historical district?
The State Historic Preservation Office was set to vote on the designation this week, but the ballot has been pushed back 60 days after a request for more time to review the proposal, as reported by the New York Daily News.
If approved, the Gowanus Canal Historic District would span 53 blocks of approximately 422 industrial properties. Landowners oppose the plan saying the buildings "have absolutely no historic value and no architectural integrity." Read more at the New York Daily News here…
by Mai Armstrong for Working Harbor Committee
If  you've ever been down to Red Hook, you couldn't have missed seeing the Lehigh Valley No. 79 Barge – in all her gorgeous boxy, redness moored at her dock near Fairway. Run by David Sharp, (just look for the smiley-est guy on the waterfront) the historic barge is the home of The Waterfront Museum.
Did you know that grand old LV No. 79 celebrates her 100th Birthday this year? I think it's time for a party!
Check out this post reblogged from Red HookWaterfront blog:
When you visit the Red Hook waterfront, one of the first things you'll notice is a bright red historic barge docked at Pier 44, near the Fairway Supermarket at the Red Hook Stores building. That's where The Waterfront Museum is found, a non-profit 501(c)3 tax-exempt charitable organization run by David Sharps.
Sharps, after working as a street performer and serving long stints on cruise ships, found himself studying theatrical movement in Paris. While there, he lived on a houseboat on the Seine. When he returned to New York, David wanted to continue living on a boat, so a tugboat captain introduced him to the Lehigh Valley No. 79 Barge.
When Sharps took possession of the historic barge, which cost him $1, it had 300 tons of mud in its hold and was grounded in New Jersey. The Lehigh Valley was restored to seaworthy condition after seven years of restoration and hard work. Sharps found his way to Red Hook via a 1992 conference organized by the legendary Pete Seeger, where Sharps met Michael Mann. Mann suggested Red Hook, Brooklyn, as a home for the Lehigh Valley, and suggested he get in touch with Greg O'Connell.
The Waterfront Museum arrived in Red Hook back in 1994, and we at The O'Connell Organization won't let him leave. We love how it hearkens back to the old days of Red Hook's working waterfront.
At Pier 44, David Sharps and The Waterfront Museum found its home port, allowing him to focus on programming and the upkeep of the historic vessel. The following history of the barge comes directly from The Waterfront Museum, and its timeline seems to mirror the maritime history of Red Hook itself:
The Lehigh Valley Railroad Barge No. 79, built in Perth Amboy, NJ in 1914, is the only wooden covered barge of its kind left over from "The Lighterage Era (1860-1960) – a period of transportation and commerce history when food and commercial goods were transported across the river by Tug and Barge prior to today's bridges, tunnels, highways, trucks and The Containerization Era." At one time there were over 5,000 non-self propelled barges similar to her. Railroad companies maintained large fleets of barges to bring goods between railroad terminals, across and along the Hudson River for consumer use, and for shipment overseas. Today, she is the only surviving example afloat.
The museum's open hours are Thursdays from 4 p.m. to 8 p.m. and Saturdays from 1 p.m. to 5 p.m. , though groups can visit on other days by appointment. There are also special showboat performances, including theater, dance, puppetry, and even circus acts, performed by Sharps and his friends.
Be sure to check out their website for more information, and sign up for their mailing list to stay in the loop on all the low-cost and highly entertaining programs they offer.
Reblogged from Red HookWaterfront blog, forward by Mai Armstrong for Working Harbor Committee
The shipping container or intermodal container was realized by shipping owner Malcom McLean and engineer Keith Tantlinger back in the 1950′s. Container design and construction has changed little since. A typical container is made of steel, with doors on one end, are either 20 feet or 40 feet long and can be stacked 7 high.
Now, engineers are looking to upgrade the simple box with high-tech features. As reported by The Economist, one idea is to make containers out of carbon-fiber composites instead of steel.
These carbon-fiber containers would be lighter and could be stored flat when empty, saving a lot of space. The high-tech material would also allow for the contents to be scanned without needing to open the container, saving time while increasing security.
The Economist: Scanning steel needs high-power X-rays, or even gamma rays. These are expensive and dangerous. Carbon-fibre could be scanned with "soft" X-rays, which are easier to generate and use.
Scanning containers to look at their contents is, though, only one aspect of security. Another is monitoring what is happening inside them. Many are already fitted with sensors that do this, but these need power and satellite- or mobile-phone connections to work.
A nifty bit of physics called the piezoelectric effect, by which certain materials generate an electric current when stressed, offers a way around that. Vibration sensors (which might help spot stowaways or shifting cargo) could be powered by the very vibrations they were designed to detect.
Read more at The Economist here…

by Mai Armstrong for Working Harbor Committee
Have you read Rick Spilman's novel Hell Around The Horn?
It's a thriller that tells of the captivating story about a young ship's captain and his family who sets sail on Lady Rebecca – a 1905 windjammer, from Wales bound for Chile, by way of Cape Horn in the Age of Sail. Based on an actual voyage, and written with historical accuracy, Rick draws you into the world of whipping westerly winds, mutiny and survival on the high seas. Read tugster's review here.
A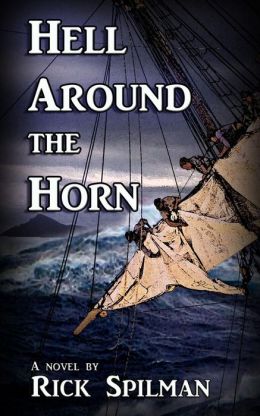 a
Overview
Hell Around the Horn is a nautical thriller set in the last days of the great age of sail. In 1905, a young ship's captain and his family set sail on the windjammer, Lady Rebecca, from Cardiff, Wales with a cargo of coal bound for Chile, by way of Cape Horn. Before they reach the Southern Ocean, the cargo catches fire, the mate threatens mutiny and one of the crew may be going mad, yet the greatest challenge will prove to be surviving the vicious westerly winds and mountainous seas of the worst Cape Horn winter in memory. Based on an actual voyage, Hell Around the Horn is a story of survival and the human spirit against overwhelming odds.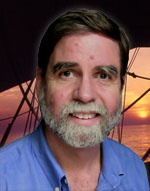 a
Rick Spilman is an acclaimed maritime author and Old Salt Blogger. If you haven't picked up this book yet, I suggest you click-through to Amazon or Barnes & Noble. It's available as an ebook for Kindle, and in paperback.
by Mai Armstrong for Working Harbor Committee, hat tip Robert Weisbrod Chair, Working Harbor Committee