You are currently browsing the category archive for the 'Working Harbor Committee' category.
Just a quick post today of a very cool photo-series by Mitch Waxman – who went down to Newtown Creek over the weekend to get a look at the dredging that is going on. The clam-shell "scooper" that was spit-shiny clean a couple of weeks ago has now been well worked, and is smeared with the black, oily sediments of the federal superfund site.
Check out how DonJon's rig and tugs seem to match the brilliant blue sky as they work on clearing the bed of the creek. The dredging operation is now running 24/7 and if all goes as planned, should be completed in the next month or so.
by Mai Armstrong for Working Harbor Committee, all photos by Mitch Waxman
Well, as luck would have it, NO photos of the USS Slater arriving at Caddell's Staten Island.
She departed Albany, Sunday morning at about 8:45 AM; and arrived and turned into the Kill van Kull at 3:30AM Monday. Not a good time for photography! I hope to be able to get some photos of her soon, and so here are this week's photos.
Reinauer was the big mover on Wednesday morning, 5 of them. Also, US Army Corps of Engineers boats were on the job in the KVK. Strangely though, while I was there, NO Moran, McAllister or Vane tugs passed by.
Until next week… John Skelson.
All photos by John Skelson for the Working Harbor Committee
The National Transportation Safety Board has determined that captain error caused the Seastreak ferry accident in lower Manhattan last year. The investigation found the vessel was being operated improperly at the time of the accident.
a
The Seastreak Wall Street ferry captain had switched the vessel's propulsion systems into backup mode earlier in the journey and had forgotten to switch them back. While in backup mode, the propellers remain in a forward pitch position which caused the vessel to accelerate forward rather than slow down while attempting to dock.
NTSB Chairman Deborah A.P. Hersman also called out the US Coast Guard for not requiring marine safety management systems – recommended by the NTSB almost a decade ago.
 NTSB: Seastreak LLC had no safety management system (SMS) in place to identify risks and take corrective actions. Although the NTSB recommended that SMS be required in 2005 and the Coast Guard was provided the authority to require them by Congress in 2010, SMSs are still not required for domestic passenger vessels. It is time to require that every passenger vessel implement an SMS."
A safety management system would have required the company to maintain current documents, to train employees to integrate safe practices into both routine vessel operations and emergency preparations and to clearly define the roles of the crew members, ensuring the captain had assistance during the emergency.
The report goes on to contribute the severity of injuries to the lack of procedures restricting passengers from stairwells and other high-risk areas. There was also no alarm sounded or announcements from the captain to inform the passengers of an emergency.
Read the NTSB Press Release here… or download the PDF summary – including findings, probable cause and recommendations here.
by Mai Armstrong for Working Harbor Committee
26 mph winds, 30 degrees, cold on the water! I haven't taken many photos this week as I've been away upstate for a few days visiting my mother for her 99th birthday, no water nearby to shoot.
Today, back on the water all is quiet, a couple of tankers docking in Bayonne, and not much tug traffic. I've also included a video, from last week, of tugs turning a tanker around on the KVK.
a
Tanker Turning on the KVK. Video: ©John Skelson
That's all for now, have a good week.
All photos and video by John Skelson for the Working Harbor Committee
Staten Island photographer, John Skelson has made the news again! Kudos to our friend and Friday's ship spotting guest-blogger, here at the Working Harbor Committee blog.
John's striking ship spotting photography on the Kill Van Kull has caught the interest of local and national media alike.
Ryan Lavis/Staten Island Advance: When local photographer John Skelson bought his first camera, in 1970, he loaded it with film, and headed to his favorite spot along the shoreline of Staten Island, just under the Bayonne Bridge. 
He spent countless hours there snapping away at the colorful variety of ships cruising along New York Harbor and the Kill van Kull — from massive container ships to freighters, tugboats and oil tankers. Today, not much has changed.
Container ships "carry about every type of merchandise you can imagine" from all over the world. Some transport expensive cars, while others are laden with orange juice. 
"What you see coming through here, most people don't even know exists, but just about every bit of commerce that comes into the United States passes through the Kill van Kull," Skelson said.
Read more at the Staten Island Advance here… and check out more of John Skelson's photos here…

by Mai Armstrong for Working Harbor Committee
Some days I am lucky to see a tugboat in an hour, other days a parade of ships, the later being today.
A new load of Rock Salt for Atlantic Salt, ZIM Monaco loaded with Summer Fashions, and the latest electronics. McAllister tugs turning the 750 foot tanker Uraga Princess around 180° from her pier in Bayonne, to head out to sea (video to follow next week). Of course Tugboats, quite a few passing, including Mary Gelatly to add to last week's list of Mary's..
That's all for now, have a good week.
All photos by John Skelson for the Working Harbor Committee
If  you've ever been down to Red Hook, you couldn't have missed seeing the Lehigh Valley No. 79 Barge – in all her gorgeous boxy, redness moored at her dock near Fairway. Run by David Sharp, (just look for the smiley-est guy on the waterfront) the historic barge is the home of The Waterfront Museum.
Did you know that grand old LV No. 79 celebrates her 100th Birthday this year? I think it's time for a party!
Check out this post reblogged from Red HookWaterfront blog:
When you visit the Red Hook waterfront, one of the first things you'll notice is a bright red historic barge docked at Pier 44, near the Fairway Supermarket at the Red Hook Stores building. That's where The Waterfront Museum is found, a non-profit 501(c)3 tax-exempt charitable organization run by David Sharps.
Sharps, after working as a street performer and serving long stints on cruise ships, found himself studying theatrical movement in Paris. While there, he lived on a houseboat on the Seine. When he returned to New York, David wanted to continue living on a boat, so a tugboat captain introduced him to the Lehigh Valley No. 79 Barge.
When Sharps took possession of the historic barge, which cost him $1, it had 300 tons of mud in its hold and was grounded in New Jersey. The Lehigh Valley was restored to seaworthy condition after seven years of restoration and hard work. Sharps found his way to Red Hook via a 1992 conference organized by the legendary Pete Seeger, where Sharps met Michael Mann. Mann suggested Red Hook, Brooklyn, as a home for the Lehigh Valley, and suggested he get in touch with Greg O'Connell.
The Waterfront Museum arrived in Red Hook back in 1994, and we at The O'Connell Organization won't let him leave. We love how it hearkens back to the old days of Red Hook's working waterfront.
At Pier 44, David Sharps and The Waterfront Museum found its home port, allowing him to focus on programming and the upkeep of the historic vessel. The following history of the barge comes directly from The Waterfront Museum, and its timeline seems to mirror the maritime history of Red Hook itself:
The Lehigh Valley Railroad Barge No. 79, built in Perth Amboy, NJ in 1914, is the only wooden covered barge of its kind left over from "The Lighterage Era (1860-1960) – a period of transportation and commerce history when food and commercial goods were transported across the river by Tug and Barge prior to today's bridges, tunnels, highways, trucks and The Containerization Era." At one time there were over 5,000 non-self propelled barges similar to her. Railroad companies maintained large fleets of barges to bring goods between railroad terminals, across and along the Hudson River for consumer use, and for shipment overseas. Today, she is the only surviving example afloat.
The museum's open hours are Thursdays from 4 p.m. to 8 p.m. and Saturdays from 1 p.m. to 5 p.m. , though groups can visit on other days by appointment. There are also special showboat performances, including theater, dance, puppetry, and even circus acts, performed by Sharps and his friends.
Be sure to check out their website for more information, and sign up for their mailing list to stay in the loop on all the low-cost and highly entertaining programs they offer.
Reblogged from Red HookWaterfront blog, forward by Mai Armstrong for Working Harbor Committee
I made a ferry trip to Manhattan, and on the return, due to harbor conditions, the SI ferry Kennedy had to detour through Buttermilk Channel. It's always a treat when that happens.
A Tale of 4 Mary's? Hmmm!  Tug Mary H in push gear in the Buttermilk passing Mary A Whalen, and Maria J and Maryland in the KVK. Too bad the Queen Mary was not in port.
The German navy ship "Bonn" was visiting NY for a few days, and I was able to get a couple of quick shots of her.  Also, shot "Coast Guard on Patrol", a short video of CG Safe Boat escorting the SI Ferry.
a
Video of US Coast Guard on patrol escorting the SI Ferry. ©John Skelson.
a
All photos and video taken on 3/10 and 3/11/14 by John Skelson for the Working Harbor Committee
Have you read Rick Spilman's novel Hell Around The Horn?
It's a thriller that tells of the captivating story about a young ship's captain and his family who sets sail on Lady Rebecca – a 1905 windjammer, from Wales bound for Chile, by way of Cape Horn in the Age of Sail. Based on an actual voyage, and written with historical accuracy, Rick draws you into the world of whipping westerly winds, mutiny and survival on the high seas. Read tugster's review here.
A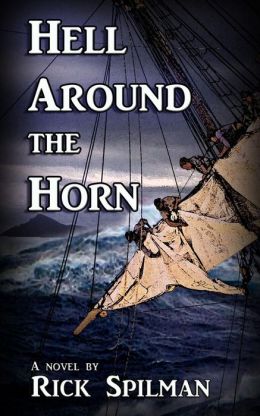 a
Overview
Hell Around the Horn is a nautical thriller set in the last days of the great age of sail. In 1905, a young ship's captain and his family set sail on the windjammer, Lady Rebecca, from Cardiff, Wales with a cargo of coal bound for Chile, by way of Cape Horn. Before they reach the Southern Ocean, the cargo catches fire, the mate threatens mutiny and one of the crew may be going mad, yet the greatest challenge will prove to be surviving the vicious westerly winds and mountainous seas of the worst Cape Horn winter in memory. Based on an actual voyage, Hell Around the Horn is a story of survival and the human spirit against overwhelming odds.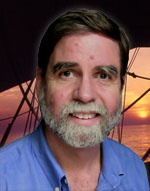 a
Rick Spilman is an acclaimed maritime author and Old Salt Blogger. If you haven't picked up this book yet, I suggest you click-through to Amazon or Barnes & Noble. It's available as an ebook for Kindle, and in paperback.
by Mai Armstrong for Working Harbor Committee, hat tip Robert Weisbrod Chair, Working Harbor Committee