You are currently browsing the category archive for the 'Working Harbor' category.
The shipping container or intermodal container was realized by shipping owner Malcom McLean and engineer Keith Tantlinger back in the 1950′s. Container design and construction has changed little since. A typical container is made of steel, with doors on one end, are either 20 feet or 40 feet long and can be stacked 7 high.
Now, engineers are looking to upgrade the simple box with high-tech features. As reported by The Economist, one idea is to make containers out of carbon-fiber composites instead of steel.
These carbon-fiber containers would be lighter and could be stored flat when empty, saving a lot of space. The high-tech material would also allow for the contents to be scanned without needing to open the container, saving time while increasing security.
The Economist: Scanning steel needs high-power X-rays, or even gamma rays. These are expensive and dangerous. Carbon-fibre could be scanned with "soft" X-rays, which are easier to generate and use.
Scanning containers to look at their contents is, though, only one aspect of security. Another is monitoring what is happening inside them. Many are already fitted with sensors that do this, but these need power and satellite- or mobile-phone connections to work.
A nifty bit of physics called the piezoelectric effect, by which certain materials generate an electric current when stressed, offers a way around that. Vibration sensors (which might help spot stowaways or shifting cargo) could be powered by the very vibrations they were designed to detect.
Read more at The Economist here…

by Mai Armstrong for Working Harbor Committee
A baby seal was seen lounging on a step at the Newtown Creek Nature Walk yesterday. No, the chubby critter was not sick, he or she just thought they'd stop by for snack and a bit of sun.
As reported by the New York Daily News, the baby harp seal plopped itself on a low step at the Newtown Ceek Nature Walk which is a public access point to the contaminated waterway.
Officials believe the seal swam in on the high tide in search of a meal, and decided to stick around for a sunbathe before heading back out on the receding tide. "There were no injuries and no concern, the animal appeared to be alert and aware."
New York Daily News: A group of teens skating nearby said they were startled by the sight of a baby seal on the pavement around 2 p.m. at the Newtown Creek Nature Walk.
Damian Snickersen, 14, said he and his friends tried to coax the adorable seal to the water without touching it. "It looked scared. It was a baby seal, not too big, like the size of a dog, a fat dog," he said. "We wanted to lead it to the water but we didn't want it touch it." Read more at The NYDN here…
by Mai Armstrong for Working Harbor Committee
Have you read Rick Spilman's novel Hell Around The Horn?
It's a thriller that tells of the captivating story about a young ship's captain and his family who sets sail on Lady Rebecca – a 1905 windjammer, from Wales bound for Chile, by way of Cape Horn in the Age of Sail. Based on an actual voyage, and written with historical accuracy, Rick draws you into the world of whipping westerly winds, mutiny and survival on the high seas. Read tugster's review here.
A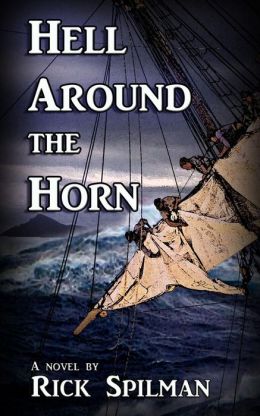 a
Overview
Hell Around the Horn is a nautical thriller set in the last days of the great age of sail. In 1905, a young ship's captain and his family set sail on the windjammer, Lady Rebecca, from Cardiff, Wales with a cargo of coal bound for Chile, by way of Cape Horn. Before they reach the Southern Ocean, the cargo catches fire, the mate threatens mutiny and one of the crew may be going mad, yet the greatest challenge will prove to be surviving the vicious westerly winds and mountainous seas of the worst Cape Horn winter in memory. Based on an actual voyage, Hell Around the Horn is a story of survival and the human spirit against overwhelming odds.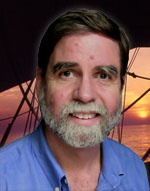 a
Rick Spilman is an acclaimed maritime author and Old Salt Blogger. If you haven't picked up this book yet, I suggest you click-through to Amazon or Barnes & Noble. It's available as an ebook for Kindle, and in paperback.
by Mai Armstrong for Working Harbor Committee, hat tip Robert Weisbrod Chair, Working Harbor Committee
It won't be long before the warmer weather and Working Harbor Committee boat tours will be here, so as a reminder of things to come, this week I am posting photos from past Hidden Harbor® tours.
Tugboats, Container ships, Newark Bay, Erie Basin, KVK, sunsets near the Statue…
YES!… it will not be long now.
Hopefully the ice will be gone from my regular shooting spot by next week, until then…
All photos by John Skelson for the Working Harbor Committee
Present Architecture has designed a proposal that they hope will change the way we handle our garbage.
As Gizmodo reports, "We send trucks millions of miles every year, creating traffic, noise pollution, and greenhouse gas emissions, all of this so that our waste can be landfilled, where it then rots and creates even more greenhouse gas," explain the designers at Present Architecture, the New York-based firm behind the proposal.
"It's a big, dirty problem."
Their idea is based on building a network of artificial islands called "Green Loops" in our area waterways, that would house dozens of organic waste (aka food scraps) processing sites within, topped with a giant 12-acre park.
The separated organics would be collected and trucked to these processing centers where it would be composted on an industrial scale.
The designers say these island facilities will "create a network of composting parks processing our organic waste (30% of our residential waste stream), while adding 125 acres of public park land."
Read more at Gizmodo here and see the proposal at Present here…
by Mai Armstrong for Working Harbor Committee
John Skelson shared this story with me the other day on facebook, about a sport I had no idea existed having hailed from warmer climes – Ice Yachting.
Of course, why wouldn't there be ice yachting? We sail on roads and sand, and even through the air, of course we would want to skim frozen waterways in full sail.
Last weekend, a group of iceboaters celebrated the polar vortex temperatures on the frozen Hudson River.
As reported by The New York Times, The North Shrewsbury Ice Boat and Yacht Club and the Hudson River Ice Yacht Club revived an old rivalry, playing out for the first time in more than a decade. The wooden 1880′s-era ice boat, Rocket would race the Jack Frost, an iceboat built in 1892.
The New York Times: Word spread of the two boats meeting, and the weekend became an iceboat summit.
"This is a very unique, unusual situation," said John Vargo, a former commodore of the Hudson club who was on the ice wearing an entire skinned coyote on his head, fastened by the forepaws tied under his chin.
"It's once in a lifetime." He scanned the dozens of wooden vessels, which date back more than a century, many of them with faded, old sails. "I've never seen this many iceboats together on the Hudson, and I've been coming here 70 years," said Mr. Vargo, 78.
Read more about the exciting day at The New York Times and see the photo gallery at the New York Daily News.
by Mai Armstrong for Working Harbor Committee hat tip John Skelson
This story tells of Coney Island's last lighthouse keeper, a project by Columbia School of Journalism students Max Kutner and Johannes Musial.
A nostalgic and personal tale told by Scott Schubert whose grandfather Frank, was the last lighthouse keeper in the nation.
New York Daily News: Frank Schubert — the country's last civilian lighthouse operator — spent more than four decades operating the Coney Island Lighthouse, an 80-foot structure that helped channel ships through the inlet to one of the nation's busiest ports.
a
The four-minute film was produced as a class project initiated by Columbia University journalism students Max Kutner and Johannes Musial, who chalked up their decision to shine a light on Schubert's legacy to their fascination with some of New York's ephemeral facets.
a
"I'm really interested in the New York waterfront and jobs that no longer exist anymore," Kutner explained, adding that it took the duo several months to track down all the information about Schubert's life. Read more at the New York Daily News here…
by Mai Armstrong for Working Harbor Committee
For more than 100 years there was just one ferry service between Manhattan and Staten Island. The Staten Island Ferry's familiar orange boats have plied the Upper New York Bay, diligently transporting passengers back-and-forth for generations.
Now with the recently announced development projects scheduled for the 'forgotten borough', the Staten Island Ferry will soon be joined by other ferry boats, as reported in Crain's New York Business.
City ferry operators are looking to expand their services in anticipation of transporting millions of tourists to new attractions like the NY Wheel, Empire Outlets – a huge shopping center and baseball games and concerts planned for Staten Island's Yankee Stadium right next to St. George Ferry Terminal.
Crain's New York Business:  6 million annual visitors [will] begin flocking to sleepy Staten Island in two years – when the attractions are expected to be completed – every major ferry company in the city, including New York Water Taxi, BillyBey Ferry Co., Statue Cruises and Seastreak, will be dropping off riders at a dock just a short distance from the St. George Terminal, where the Staten Island Ferry lands.
Staten Island could become a major tourist destination by 2016, if the developers' vision is realized. Combined, the two projects represent a $580 million investment. The New York Wheel, a 630-foot structure, will be the largest such attraction in the world, featuring glass-enclosed observation capsules that hold up to 40 people for a 38-minute ride.
The wheel will be able to accommodate as many as 1,400 passengers at a time, while Empire Outlets will include more than 100 designer stores, restaurants, a banquet facility and a 200-room hotel.
At night, the wheel will put on a show using $8 million worth of LED lighting that will act as a beacon, drawing people to St. George and the waters around it. Read more from Crain's New York Business here…
by Mai Armstrong for Working Harbor Committee
He's conquered air, space and now he has the high seas in his sights.
British billionaire entrepreneur Sir Richard Branson, the founder of the Virgin Group, is planning a fleet of cruise ships to rival industry giants like Carnival and Royal Caribbean as reported by SkyNews.
Sir Richard Branson is looking to investors for a cool US$1.7 billion to help launch a Virgin Cruises. He plans to start his fleet by building 2 brand new ships for the Caribbean and Mediterranean cruise market.
"We are looking at a very different kind of cruise company. We're trying to create the kind of cruise ship that would be attractive to the kind of people who would never consider a cruise at the moment," Sir Richard told The National.
Read more at The National and SkyNews …
As reported by MyFoxNY, A huge section of a floating dock broke loose Thursday and drifted north on the East River to around E. 90th Street near Gracie Mansion before FDNY and NYPD marine units caught up with it and put a kabosh on its escape.
Luckily, the unmanned dock did not impact anything during its unsupervised journey.
Officials have not yet confirmed why the dock broke free or where it's from – although they speculate the massive structure is likely from either the sea-plane terminal or one of the ferry landings along the East River.
MyFoxNY: A portion of a dock along the East River floated into the water and away from land on Thursday.
SkyFoxHD was over the scene at about 7 a.m. where NYPD boats, FDNY boats and two other vessels appeared to be attempting to move the dock back into position. Just where that position is remains unclear.
The dock has two ramps and was moving up the river just off East 92nd Street in Manhattan. It was not clear why the dock became loose.
Check out the aerial video footage from MyFoxNY here…