You are currently browsing the tag archive for the 'Coast Guard' tag.
Did you hear about the mysterious barge that has been moored off Treasure Island in San Francisco Bay for the past week? Reuters reports that when the US Coast Guard visited, they were required to sign confidentiality agreements and not disclose anything about what they saw onboard the vessel.
What is this thing? Who does it belong to? What's it for? Speculations have been flying like wildfire.
Well word is, it's a Google Glass party barge.
CNN: The mystery barge in San Francisco Bay is indeed a Google project, and houses a fancy, floating showroom for Google Glass and other products, a CNN affiliate is reporting.
According to KPIX-TV in San Francisco, the barge structure will become one of a small fleet of luxury event spaces, complete with a party deck for invitation-only visitors.
The station cited "multiple sources" including at least one who has been aboard the barge, and said it was dreamed up at Google X, the company's secret facility where engineers have cooked up projects like Google Glass and a self-driving car.
The facility is constructed from interchangeable shipping containers and is designed to be disassembled and transported via barge or train to other locations, a source said. The fancy barges will be an effort by Google to upstage rival Apple's stylized retail stores, a source said.
In a statement, the U.S. Coast Guard confirmed it is working with the barges' owners to make sure the floating structures have the proper permits and permissions to operate in the bay. But it didn't say much else.
"Regardless of the company or entity involved, the Coast Guard has an obligation to protect sensitive proprietary information, as a company's competitive posture and business interests depend on it," said the branch of the U.S. military in the brief statement. Read more here…
by Mai Armstrong for the Working Harbor Committee, hat tip to Bowsprite
Cool clear weather has made for some nice photography conditions, and a cold wind on Tuesday morning reminded me that gloves will be in order soon.
There was a lot of tugboat activity on the Kill Van Kull this week, small tugs, Shelby Rose and Tony L Miller, and larger one's like Comet…and of course Gramma Lee T Moran. Our Christmas presents are arriving on the many container ships like ZIM Luanda, and MCS Busan coming into the port.
a
On October 5, I will be leading a Photowalk along the KVK and Richmond Terrace, as part of Scott Kelby's Worldwide Photowalk day. We will walk from the Staten Island Ferry Terminal to the Snug Harbor area. The walk is free, but you must sign up.
There will be walks held all over the world on that day, so there may even be one in your neighborhood. Check worldwidephotowalk.com for the walks and sign up if you are interested.
Until next week, John Skelson.
by John Skelson for the Working Harbor Committee
Don't miss this historical photo exhibit hanging on Governor's Island through September 2, curated by the New-York Historical Society. The images, from World War II New York, show how our city and her citizens put themselves forward for the war effort. There are some amazing images of the Brooklyn Navy Yard and the WAVES.
WAVES or Women Accepted for Volunteer Emergency Service, were a formal branch of the military who received military ranks and benefits and were paid the same as Navy men. These women worked shore side in vital jobs from training pilots to decoding enemy communications.
Slate.com: A new exhibit presented by the New-York Historical Society, "WWII & NYC: Photography and Propaganda," tells a vivid story. Drawn from a vast collection of historical images, including many from U.S. Navy archives, the exhibit shows how the war touched every aspect of life.
"It attempts to create a better sense of what 'total war' meant to New Yorkers, whether they were working at the Navy Yards or just going about their daily lives," said the historical society's Chelsea Frosini.
Among the most dramatic changes to the city during wartime was an explosion of production and movement. According to the society, 63 million tons of supplies and more than 3 million men shipped out from New York Harbor, and at the height of the war, a ship left every 15 minutes.
The Brooklyn Navy Yard doubled its size and employed 70,000 people, including many women; it became the largest shipbuilding facility in the country at the time.
"It had the shipping and railroad infrastructure to really be the Army and Navy's warehouse for sending troops, ships, planes, guns, bombs, toilet paper, thumb tacks—whatever they needed—to Europe," said Mike Thornton, a research associate at the New-York Historical Society.
"We sent it all. The port has never been that busy since."
The war also changed the look of the city. Times Square, Broadway, and other iconic locations shut their lights in observance of a "dim-out" meant to protect the city from attack.
Posters inundated public spaces to promote the war effort and instruct civilians how to respond to an air raid or naval strike. And the streets saw occasional floods of soldiers on Liberty Leave, there to enjoy the city for 24 hours of freedom.
City institutions, including museums and universities, took on new functions to contribute to the war effort. Between 1943 and 1945, the Bronx campus of Hunter College (now Lehman College) accommodated more than 80,000 female Navy reservists, called the WAVES, for boot-camp training.
People in the armor department at the Metropolitan Museum started producing equipment for the war. Even the New-York Historical Society was transformed into an American Red Cross bandage-rolling station.
The war also impacted individuals. Families grew victory gardens and had ration cards to get groceries and fuel. Children participated in air raid drills and created models of enemy airplanes for the Civilian Defense Corps to use as reference.
And with 900,000 New Yorkers serving in the military, many people in the city had friends and family fighting overseas.
"You couldn't have missed the war," said Thornton. "It really required a total civilian contribution."
The exhibit, which was curated with help from high-school-aged student historians, will be on view on Governors Island through Sept. 2nd.
by Mai Armstrong Working Harbor Committe
An abundance of krill has drawn an unusually large number of whales off the Northern California coast near the Farallon Islands. The US Coast Guard is asking large ships to slow down to half-speed in the area, to avoid collisions with the feeding sea mammals.
The USCG's message, broadcast over marine band radio, is requesting all tankers, container ships and cruise ships to reduce their speed to 10 knots or less and urges mariners to "keep a sharp lookout for large whales".
About 20 heavy vessels a day pass near the Cordell Bank National Marine Sanctuary and the Farallon Island marine sanctuaries managed by NOAA, where endangered blue and humpback whales congregate to feed in the krill-rich waters.
San Francisco Chronicle: The Coast Guard is asking large ships off the Northern California coast to slow down to almost half their normal speed to avoid collisions with endangered whales feasting on an abundance of krill in the water.
The National Oceanic and Atmospheric Administration requested the slowdown after its biologists on the Farallon Islands counted a remarkable concentration of whales off the Farallon Islands late last month.
During a one-hour break on June 27, they counted 33 humpback whales, six blue whales and one fin whale, said Dan Howard, superintendent of the Cordell Bank National Marine Sanctuary, which covers 529 square miles off the Sonoma and Marin County coast. 
The next day, they spotted 25 humpbacks, seven blue whales, one fin and one gray whale.
Howard said the whales are feeding on a swarm of krill, a tiny shrimp-like crustacean that's a staple of blue whales' diet. The Coast Guard message is scheduled to continue until Friday.
by Mai Armstrong for Working Harbor Committee
Two cargo vessels have collided in southern Greece. As reported by Greek media, survivors said the cargo ship Pirireis, carrying fertilizer from Algeria to Ukraine with 17 Syrian seamen crew, sank quickly. Two dead were recovered and eight seamen are still missing. Search and rescue operations are underway with two coastguard vessels, a navy helicopter and a C-130 aircraft, with five commercial ships in the area providing additional assistance.
From Reuters: Two people drowned and eight are missing after two cargo ships collided off southwestern Greece early on Monday, the Greek coastguard said.
The drowned and missing crew were from the Pirireis, sailing under a Cook Islands flag, which was in a collision with the ConSouth carrier about 75 nautical miles off the islet of Sapienza, a coastguard official said. The ConSouth, sailing under an Antigua-Barbuda flag, was not seriously damaged and its crew of 16 is safe.
"Pirireis had a crew of 17. The ConSouth ship recovered two drowned with eight still missing," said the official who declined to be named.
The official said two coastguard vessels, joined by a navy helicopter and a C-130 aircraft, had launched search-and-rescue operations, assisted by five ships sailing in the area.
"The weather was fine, the sea was calm," Dimitris Kafantaris, mayor of the nearby coastal town of Pylos, told state-run TV Net. "Authorities are also checking to see if there was any pollution from the sinking." Read more here…

by Mai Armstrong for Working Harbor Committee
BREAKING NEWS from NY1:
The Seastreak Wall Street Ferry carrying commuters from Highlands, N.J., allided hard with dock at Pier 11 in Lower Manhattan this morning at approx. 8:50 am. NY1 is reporting there are more than a dozen passenger injuries. FDNY, EMS, NYPD and Coast Guard are on scene.
UPDATE: 10:45 am: Pier 11 is closed to all ferry traffic until further notice.
East River Ferry Advisory: southbound service will use Pier 17 (South Street Seaport) until further notice.
Seastreak Advisory: The 5:55 East 35th St. and 6:10 Pier 11 departures are cancelled for today, 1/9/12. Seastreak is pleased to announce that we have reinstated our 6:40 AM departure from Highlands. In addition, the 10:00 AM departure which has been temporarily operating out of Highlands will now be departing from Atlantic Highlands.
by Mai Armstrong for Working Harbor Committee
BOATLIFT is the story of the largest maritime evacuation in history. Eleven years ago, on 9/11, over 500,000 people were rescued from Manhattan's sea walls in just under nine hours.
The city was under attack. The subway was shut down, the bridges closed, commuter rail ground to a halt. Hundreds of thousands of people streamed towards the water's edge, desperate to get to safety, desperate to get off the island.
Ghost-like, thousands came through the dark, smokey mist. They crowded the seawall 10-deep, crying out for rescue.
Help us. We need help.
Then the Coast Guard made the call. All available boats. Anyone able to help with the evacuation of Lower Manhattan, report to Governor's Island.
One radio call went out and within minutes, hundreds of tugboats, ferries, fishing boats, coast guard cutters, private boats, party boats, small professional diving boats and other vessels converged on the harbor to do what they could.
"If it floated, and it could get there, it got there," said Mary Gellatly engineer Robin Jones. As the towers fell, the brave community of mariners who work the waters of New York Harbor rushed towards the disaster.
That day, through the thick, acrid smoke came angels from the water.
"I believe everybody's got a little hero in them. You gotta look in, and it's in there. It'll come out, if need to be."  –Robin Jones, engineer Mary Gellatly
So, on this 11th anniversary, let's also honor and remember these humble maritime heroes; average people who stepped-up when needed, to accomplish the impossible.
by Mai Armstrong for Working Harbor Committee
Lightship Ambrose LV-87. Photo: South Street Seaport Museum
The United States Lightship Ambrose LV-87 was built in 1907 and served at the Ambrose Channel station as a "floating lighthouse" to guide ships safely through the channel.
Ambrose Channel is the Port of New York and New Jersey's main shipping channel. Considered part of Lower New York Bay and located several miles off the coasts of Sandy Hook NJ and Breezy Point, NY, Ambrose Channel terminates just south of the Verrazano Narrows Bridge, at Ambrose Anchorage.
Ambrose  served the Ambrose Channel until 1932, when she was reassigned to serve as the Lightship Scotland, a station much closer to Sandy Hook, NJ. She would be the first lightship to serve in the relocated position nearer the center of the channel.
The Lightship Ambrose at South Street Seaport. Photo: Terese Loeb Kreuzer /Downtown Express
In 1921 she received the first radio beacon in the US; the technology used to help navigate ships through the congested channel in dense fog. She was also the last steam-powered vessel to hold this post. Lightship Ambrose LV-87 was decommissioned from the Coast Guard after 59 years of service on March 4, 1966. Two years later, Ambrose became South Street Seaport Museum's first vessel in their collectionof historic ships in Lower Manhattan.
After decades hosting hundreds of thousands of visitors each year, Ambrose recently took a trip to Caddell Dry Dock and Repair for a much-needed scrub and shine.
Ambrose in dry dock. Photo: John Watson /SaveOurSeaport
From Downtown Express: "Ambrose was the first vessel in the South Street Seaport Museum's collection," said Jonathan Boulware, the museum's waterfront director. "She's an icon."
Boulware said the museum was grateful to Caddell Dry Dock and to its president, Steve Kalil, for doing such a good job of repairing the ship. "It's great to be in the hands of professionals," Boulware said, while noting that not all dry dock companies would know how to repair a historic ship.
After months of restoration, Lightship Ambrose returned triumphantly to her berth at the South Street Seaport. Today, visitors can board Ambrose and tour the remarkable original lightship, complete with working "radio shack" and mostly 1907 interior and equipment. Visit her at at South Street Seaport's Pier 16.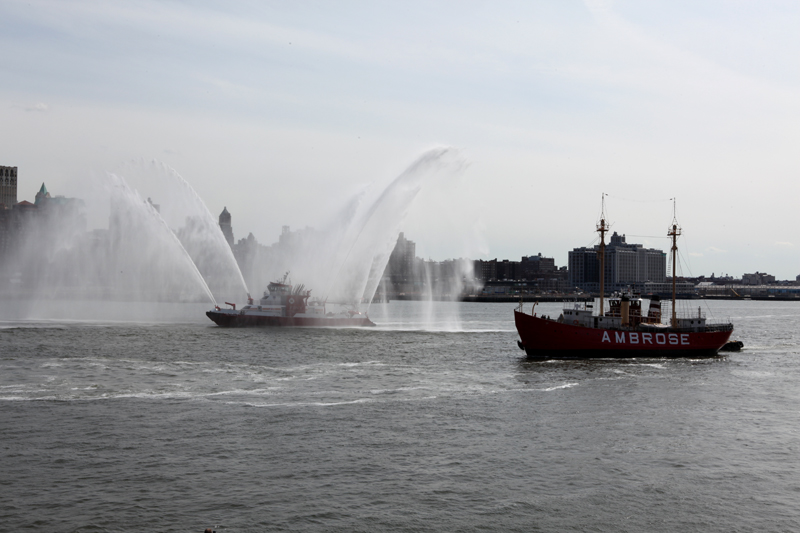 Ambrose returning to South Street Seaport from Staten Island. photo: Stephen Nessen /WNYC

For only $10, you get entry to the lightship Ambrose at Pier 16 as well as to the South Street Seaport galleries at 12 Fulton Street. Become a member of the South Street Seaport Museum or the Museum of the City of New York and your admission is always FREE. Check out the website for more information.
Ambrose sails back to South Street Seaport March 5, 2012. photo: Ben Fractenberg / DNAinfo
by Mai Armstrong for Working Harbor Committee