You are currently browsing the tag archive for the 'figurheads' tag.
Sal Polisi, master maritime woodcarver, has been a regular sight on the docks of South Street Seaport for more than 30 years. His quaint woodcarving workshop has been a popular tourist destination on the NY harbor for decades.
Sea Captain, South Street Seaport Museum Workshop.
photo: Michael Dolan
Six days a week for the past 30 years, Mr Polisi has arrived early in the morning to create hand-carved wooden masterpieces for historic vessels, maritime area-businesses and for the South Street Seaport Museum. Early in his career he had spent time studying with master carvers at the Bartolozzi & Maioli studios in Florence, Italy.
From his website: Sal can be seen at work at the South Street Seaport Museum, where he maintains a studio that is visited by travelers from all over the world. Sal has created and restored items for many of the Museum's historic vessels, including the squarerigger Wavertree, 1885; barque Peking, 1911; schooner Pioneer, 1883; schooner Lettie G. Howard, 1893; tugboat W.O. Decker, 1930; and paddlewheeler Andrew Fletcher (reproduction), 1985.
Polisi's handiwork can be seen all around the South Street Seaport district – from historic nameplates and ships figureheads – his workshop is often the first stop for tourists. He greets every visitor with a hearty welcome, "This is the workshop for the South Street Seaport Museum."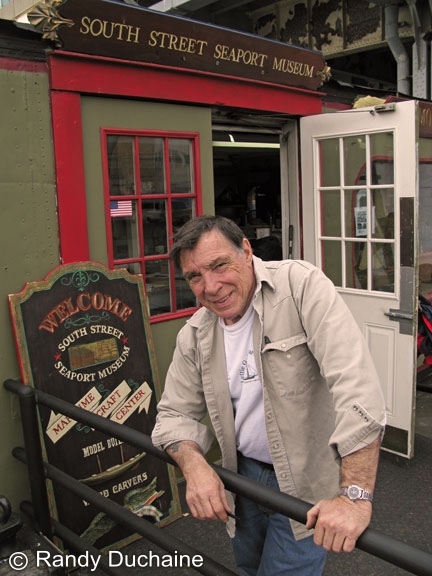 Sal Polisi at his workshop. photo: Randy Duchaine
Mr. Polisi works 40 hours plus a week, all for FREE. He has volunteered 30 years of his time and expertise in return for the little, barely heated / un-airconditioned 13 foot x 32 foot space, at pier 15, to do his work.
From DNAinfo.com: The Seaport Museum covers the cost of materials, but Polisi does not charge for his work. "I don't do it for the money," Polisi said as he painted a red border on a sign Wednesday morning.
The woodcarver at work. photo: Michael Dolan
From DNAinfo.com: But now, the city says Polisi's carving shop blocks a future bike path and walkway that is part of the new East River Waterfront esplanade, several people familiar with the situation said.

In 2011, Polisi was told by the NYC EDC that his workshop would be relocated underneath the FDR Drive, near the current location. That offer has been taken off the table (with no clear explanation) and he is now facing eviction.
From DNAinfo.com: "It's the last traditional marine craft that is actively pursued in the Seaport area," said Robert Rustchak, 56, a member of Save Our Seaport's steering committee who has known Polisi for 28 years. "We don't see a good reason for [the shop's eviction]. Everybody's very confused."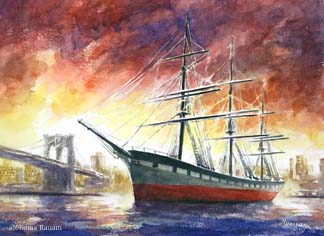 Tall Ship Wavertree at Sunrise by Artist Naima Rauam
Long-time NY waterfront painter and friend of Working Harbor Committee, Naima Rauam says in the DNAinfo.com report, "I can't imagine the waterfront without him, [the shop] gives visitors a chance to visually connect with the history of the waterfront of New York City."
What will happen if he's forced into retirement? Could we ever find another treasure like Sal Polisi? How will our historic ships fare without his skilled hands? The waterfront without Mr. Polisi is too grim a scenario to even contemplate.
by Mai Armstrong for Working Harbor Committee