You are currently browsing the tag archive for the 'Lettie G. Howard' tag.
Independence Day will have a bittersweet edge to it for the South Street Seaport Museum this year. On July 5, the Museum of the City of New York will cut loose the floundering historical institution, ending their stewardship of the museum – an arrangement that's been in place since 2011.
The New York Times: Having struggled to make a go of the South Street Seaport Museum in the wake of Hurricane Sandy, the Museum of the City of New York has decided to pull out of running the troubled institution.
"Sandy really just did us in," said Susan Henshaw Jones, the City Museum's president, who has been stewarding both institutions in what was considered a last-ditch effort. "There still exists this huge amount of post-Sandy work that is enormous in terms of dollars, which is going to take years."
Ms. Jones added that her board wants her to concentrate on the City Museum on Fifth Avenue at 103d Street.
In 2011, the Seaport museum received a $2 million grant from the Lower Manhattan Development Corporation and another $750,000 from the Andrew W. Mellon Foundation and private donors.
Then overnight, Superstorm Sandy washed away all the efforts to stabilize the flailing institution, leaving them with an estimated $22 million worth of damage.
Despite heroic efforts put forth by volunteers and staff to reopen the museums galleries on Fulton Street after the devastating storm, they were forced to close them in early April, moving the delicate artifacts to a climate-controlled storage to keep them safe from harm.
Downtown Express: Danai Pointer, a spokesperson for the Department of Cultural Affairs, said that the Pioneer will continue to sail through the summer season and that Bowne & Co. will remain open.
The New York Times: The city's Department of Cultural Affairs, which has been involved in helping the Seaport Museum, held out hope of a further rescue. "We're working to see if we can find another entity" that can take over the organization, said Kate D. Levin, the cultural affairs commissioner. If no group comes forward, responsibility for the museum will fall to the New York State attorney general.
But what about the historic ships? What will happen to Peking and Pioneer, Wavertree, Ambrose and Lettie G. Howard? What about my favorite 'little yellow tugboat", the W.O. Decker?
by Mai Armstrong for Working Harbor Committee
From BWW MusicWorld.com: The South Street Seaport Museum today announced a gala concert starring singer-songwriter Rosanne Cash to raise funds to restore the schooner Lettie G. Howard. The gala event will be held on Monday, April 8th at the New York Academy of Medicine on Fifth Avenue.
Ms. Cash's ancestors arrived in Salem, Massachusetts aboard the ship Good Intent in 1643, and many of her ancestors were whalers and fishermen.
"I'm honored to support the restoration of Lettie G. Howard, a treasure of maritime history, a completely unique teaching vessel, and a precious fixture in New York Harbor," Ms. Cash said.
Tickets to the performance – which will begin at 8 PM – can be purchased online at http://www.southstreetseaportmuseum.org/rosanne-cash. Those purchasing tickets at the $500 "Jib" level or above will be invited after the performance to a private reception with Ms. Cash at the Museum of the City of New York.
The event is being held to raise funds to repair and renovate the 120-year-old Lettie G. Howard, which in recent years has served as a sailing school vessel for the New York Harbor School, the New York City public high school on Governors Island that trains students for maritime careers. Repairs to make her seaworthy again are estimated at $250,000; $140,000 has been raised to date.
"It is clear that Lettie is as tough as she is beautiful," said Susan Henshaw Jones, Ronay Menschel Director of the Museum of the City of New York and President of the South Street Seaport Museum. "But today she needs help. She has developed rot in her keelson, the interior spine that holds her together, and we will have to take her apart in order to repair her. The project is estimated to cost approximately $250,000." Read more here…
reblogged by Mai Armstrong for Working Harbor Committee
Sal Polisi, master maritime woodcarver, has been a regular sight on the docks of South Street Seaport for more than 30 years. His quaint woodcarving workshop has been a popular tourist destination on the NY harbor for decades.
Sea Captain, South Street Seaport Museum Workshop.
photo: Michael Dolan
Six days a week for the past 30 years, Mr Polisi has arrived early in the morning to create hand-carved wooden masterpieces for historic vessels, maritime area-businesses and for the South Street Seaport Museum. Early in his career he had spent time studying with master carvers at the Bartolozzi & Maioli studios in Florence, Italy.
From his website: Sal can be seen at work at the South Street Seaport Museum, where he maintains a studio that is visited by travelers from all over the world. Sal has created and restored items for many of the Museum's historic vessels, including the squarerigger Wavertree, 1885; barque Peking, 1911; schooner Pioneer, 1883; schooner Lettie G. Howard, 1893; tugboat W.O. Decker, 1930; and paddlewheeler Andrew Fletcher (reproduction), 1985.
Polisi's handiwork can be seen all around the South Street Seaport district – from historic nameplates and ships figureheads – his workshop is often the first stop for tourists. He greets every visitor with a hearty welcome, "This is the workshop for the South Street Seaport Museum."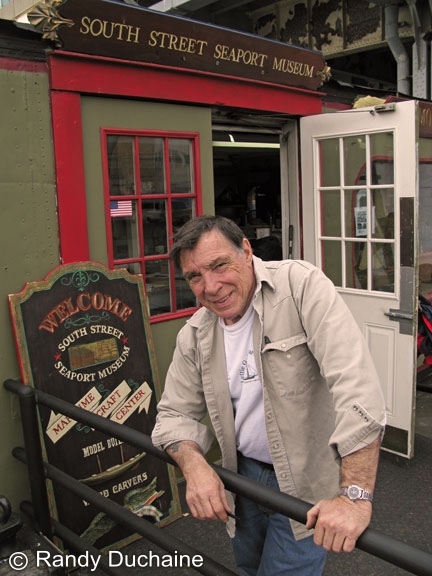 Sal Polisi at his workshop. photo: Randy Duchaine
Mr. Polisi works 40 hours plus a week, all for FREE. He has volunteered 30 years of his time and expertise in return for the little, barely heated / un-airconditioned 13 foot x 32 foot space, at pier 15, to do his work.
From DNAinfo.com: The Seaport Museum covers the cost of materials, but Polisi does not charge for his work. "I don't do it for the money," Polisi said as he painted a red border on a sign Wednesday morning.
The woodcarver at work. photo: Michael Dolan
From DNAinfo.com: But now, the city says Polisi's carving shop blocks a future bike path and walkway that is part of the new East River Waterfront esplanade, several people familiar with the situation said.

In 2011, Polisi was told by the NYC EDC that his workshop would be relocated underneath the FDR Drive, near the current location. That offer has been taken off the table (with no clear explanation) and he is now facing eviction.
From DNAinfo.com: "It's the last traditional marine craft that is actively pursued in the Seaport area," said Robert Rustchak, 56, a member of Save Our Seaport's steering committee who has known Polisi for 28 years. "We don't see a good reason for [the shop's eviction]. Everybody's very confused."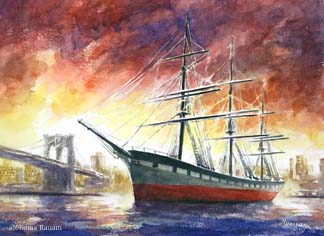 Tall Ship Wavertree at Sunrise by Artist Naima Rauam
Long-time NY waterfront painter and friend of Working Harbor Committee, Naima Rauam says in the DNAinfo.com report, "I can't imagine the waterfront without him, [the shop] gives visitors a chance to visually connect with the history of the waterfront of New York City."
What will happen if he's forced into retirement? Could we ever find another treasure like Sal Polisi? How will our historic ships fare without his skilled hands? The waterfront without Mr. Polisi is too grim a scenario to even contemplate.
by Mai Armstrong for Working Harbor Committee