You are currently browsing the tag archive for the 'maritime' tag.
The Triple-E class container ship Majestic Maersk was officially named in a christening ceremony by Crown Princess Mary of Denmark in her home port of Copenhagen this week. The mega-ship, on her maiden voyage from South Korea is the 2nd of 20 $185 million Triple-E class vessels that Maersk has ordered.
The Maritime Executive: Crown Princess Mary of Denmark named the second Triple-E vessel Majestic Mærsk amid a sea of fans and spectators.
The Majestic Mærsk is the second in Maersk Line's fleet of 20 Triple-E vessels, and it has made a unique visit to the Danish capital this week. Copenhagen is not a major container port, and in regular service the vessel will instead serve nearby Aarhus and Gothenburg.
Since no boxes are going on or off, the vessel is docked not at the main port, but at Langelinie in the centre of the city, becoming a dominant feature on the Copenhagen skyline. And from the bridge, the view of the city is certainly unique: how often do you find yourself looking down on the opera house or the Maersk headquarters by the water?
On Wednesday, however, the princess was the star of the show. No fewer than 40 journalists were there to cover the event, and many local enthusiasts had lined up to witness her entrance in the beautiful autumn morning. Her task for the day was simple enough: deliver a short 'encomium' (speech) and see to it that the bottle broke on the side of the ship. Both were done to perfection.
Maersk Line's Chief Operating Officer Morten Engelstoft said: "We are really proud of the vessel. We find it very good that it's optimised in every respect, and it's a vessel which we would like to give people the experience to come aboard here in Copenhagen."
Vessel tours are open to the public, but on a limited basis, and the more than 50,000 tickets were ripped away in a matter of days earlier this month. Thousands more are expected to see the ship from the outside and visit the quayside exhibition featuring the story of Maersk Line and containerisation. The vessel will stay in Copenhagen until Sunday 29 September.

by Mai Armstrong for the Working Harbor Committee
Reblogged via « The Newtown Pentacle.
Many people know about the environmental issues facing Newtown Creek, but did you know that the Creek was once the busiest waterway in North America, carrying more industrial tonnage than the entire Mississippi River?
You'll learn much more when Working Harbor Committee's maritime historians and harbor experts put it all in context during a Hidden Harbor Tours: Newtown Creek Exploration.
The heart of industrial New York, Newtown Creek was home port to hundreds of tugboats one of which is the historic WO Decker. It was also an international destination for oceangoing ships and a vast intermodal shipping and manufacturing hub that employed hundreds of thousands of people. Forming the border of Brooklyn and Queens for nearly three miles, five great cities grew rich along the Newtown Creek's bulkheads — Greenpoint, Willamsburg, Bushwick, Long Island City and Manhattan itself. The waterway is still a vital part of the harbor and the Working Harbor Committee WHC is proud to present this tour as part of the celebration of their tenth anniversary year.
Mitch Waxman, a member of WHC's steering committee and the group's official photographer, also serves with the Newtown Creek Alliance as its group Historian. In addition to working on WHC's boat tours of the Creek, Mitch offers a regular lineup of popular walking tours, and presents a series of well-attended slideshows for political, governmental, antiquarian, historical and school groups. His website — newtownpentacle.com — chronicles his adventures along the Newtown Creek and in the greater Working Harbor.
He was recently profiled in the NY Times Metro section, check out the article here.
Upcoming tour:
Hidden Harbor Tours: Newtown Creek Exploration.
On July 22nd, Mitch shares his unique point of view and deep understanding of the past, present and future conditions of the Newtown Creek as the narrator and expedition leader for this years Hidden Harbor Tours: Newtown Creek exploration.
Our NY Water Taxi leaves from South Street Seaport at 11 a.m. sharp on a three-hour tour of the Newtown Creek. From the East River we'll move into the Newtown Creek where we'll explore explore vast amounts of maritime infrastructure, see many movable bridges and discover the very heart of the Hidden Harbor.
Limited seating available, get your tickets today.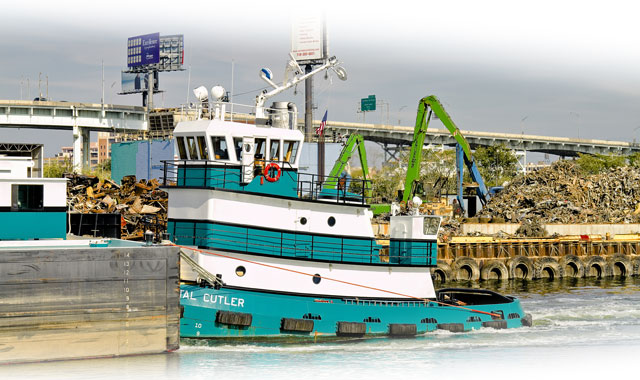 Tickets $50, trip leaves Pier 17 at South Street Seaport at 11a.m. sharp.

We will be traveling in a comfortable NY Water Taxi vessel with indoor and outdoor seating. There will be refreshments and snacks available for purchase at the bar.
by Mai Armstrong via Mitch Waxman for Working Harbor Committee
Robots, once a figment of our imagination, have started to become ubiquitous in our everyday lives. We are used to talking cell phones and driverless trains. But what about pollution-fighting fish robots?
Dr. Huosheng Hu with an early prototype. photo: MotherboardTV
The Shoal Consortium, a group of scientists from University of Essex, the Tyndall National Institute, the University of Strathclyde together with BMT Group, a technology consultancy, and Thales Safare, a unit of Europe's largest defense electronics group and the Port Authority of Gijon have developed a robotic fish that can detect and report pollution from the source, in real-time.
Luke Speller from the Shoal Consortium explains how it works in this video from BBC News.
Last week, a school of prototype robo-fish was released in the northern Spanish Port of Gijón in the Bay of Biscay. The school of 5-foot long mechanical fish will patrol the harbor, collecting and mapping real-time data of contaminants in the water. The robots detect heavy metals like copper, lead and phenols while operating to depths of around 95 feet. They can also measure oxygen and salinity levels to help monitor the harbor's environmental health.
Designed to mimic nature, the robotic fish have built-in acoustic sensors so they can "talk" to each other, sonar to "see" and avoid obstacles and a computer brain that tells them where and how best to hunt down sources of pollution.
SHOAL robotic fish released into the wild. photo Luke Speller
From BBC News: Ian Dukes from the University of Essex – another partner in the consortium – says that nature was an obvious inspiration for their robot.
He explains: "Over millions of years, fish have evolved the ultimate hydrodynamic shape, and we have tried to mimic that in the robot. "They swim just like fish; they are really quite agile and can change direction quickly, even in shallow water."
Dr. Huosheng Hu of the University of Essex in the robotics lab. photo: MotherboardTV
The dual-hinged fish-tail is very maneuverable, enabling the robo-fish to make tight turns a propeller-driven robot couldn't manage. This makes them easily able to navigate the ports and avoid ships and the port infrastructure.
They are also less noisy, which is better for marine life. The robo-fish are battery-powered and run for about 8 hours between charges. For now, they have to be picked up by boat, but in the future, the scientists plan to program the fish to automatically return to a charging station when the battery runs low.
Watch more at MotherboardTV about the development of the robo-fish.
SHOAL robotic fish. photo Luke Speller
Currently, divers monitor water quality about once a month – a costly, time-consuming process. The port of Gijón pays 100,000 euro a year for divers to collect water samples which are then sent away for analysis for several weeks. The SHOAL robo-fish monitor the water quality in real-time allowing the port authorities to respond immediately to pollution and start mitigating the effects.
"The idea is that we want to have real-time monitoring of pollution, so that if someone is dumping chemicals or something is leaking, we can get to it straight away, find out what is causing the problem and put a stop to it," explains Luke Speller to the BBC.
While the primary purpose for the robo-fish is to monitor water pollution, that's not all the scientists and engineers have planned. The modular design makes it easily adaptable for other uses. The developers hope to refine the robo-fish technology for oil-spill cleanup, maritime search and rescue, and port security.
by Mai Armstrong for Working Harbor Committee
New Rules Seek to Prevent Invasive Stowaways
FELICITY BARRINGER, April 7, 2012
Zebra Mussels © Center for Great Lakes and Aquatic Sciences
Nearly a quarter-century has passed since an oceangoing ship from Europe docked somewhere in the Great Lakes and discharged ballast water carrying tiny but tenacious zebra mussel larvae from Europe.
Within a few years after they turned up in Lake St. Clair, between Lakes Huron and Erie, the small freshwater mussels and their larger and even more destructive cousins, quagga mussels, had coated lakebeds throughout the region, clogging intake valves and pipes at power, water treatment and manufacturing plants.
The filter-feeding mussels have since helped to upend the ecosystems of the Great Lakes, fouling beaches, promoting the growth of poisonous algae and decimating some native fish populations by eating the microscopic free-floating plant cells on which their food web depends.
"They didn't just spread — they completely colonized the Great Lakes," said Andrew Buchsbaum, director of the National Wildlife Federation's Great Lakes office.
Yet it was not until last month that the Coast Guard issued a federal rule requiring oceangoing freighters entering American waters to install onboard treatment systems to filter and disinfect their ballast water. The regulation, which largely parallels a pending international standard and another planned by the Environmental Protection Agency, sets an upper limit on the concentration of organisms in the ballast water.
About 12,000 oceangoing ships moving through United States waters will be covered by the Coast Guard rules; hundreds reach the Great Lakes system through the St. Lawrence Seaway. Until now, they were only required to flush their tanks at sea, a system called ballast water exchange.
The goal of the new rule is not to vanquish quagga or zebra mussels — scientists assume they are here to stay — but to bar entry to other invasive species like the so-called killer shrimp that are spreading through Europe.
"Some things it's too late for," said Andrew Cohen, director of the Center for Research on Aquatic Bioinvasions in Richmond, Calif. "We're not going to keep quagga mussels and zebra mussels from coming to the U.S. They're here, and we're not going to get rid of them."
But "the damage to come may be worse than we've seen," said Dr. Cohen, who added that ballast water is a potential source of microscopic invaders like infectious or antibiotic-resistant bacteria that have sometimes reached North American waters.
Photo: CSIRO
Scientists have tracked at least 329 invaders in marine environments worldwide; ecosystems have been disrupted from the Great Lakes to San Francisco Bay, where the Asian clam is implicated in a collapse of fish stocks, to Lyttelton Harbor in New Zealand, where an invasive fanworm, a prodigious filter feeder, outcompetes local shellfish.
Yet environmentalists, who have long sought a tough ballast rule, worry that the Coast Guard rule and the other proposals are too weak and that the rollout of enforcement will be far too slow to do much good.
For now, the Coast Guard requires only new ships to install the filtering and disinfecting equipment; others can wait until the next time they enter dry dock for maintenance or repair, which may happen only every five years or so. Because some ships do not fall under the rule until 2016, it could be 2021 before they comply.
"The industry's had fair warning that this was coming," said Thom Cmar, a lawyer for the Natural Resources Defense Council who focuses on Great Lakes ecosystems issues. "To give an even further compliance extension on top of what's already been a long period of delay is unjustified."
The original proposal by the Coast Guard called for a reappraisal and tightening of standards in 2016; that was dropped, angering the environmentalists and some scientists. They say that onshore treatment plants could be 1,000 times as effective than onboard technology.
Land-based systems could filter ballast with dense and heavy material like sand, they say, a process that is likely to be difficult to replicate on a ship, at least not without crowding out cargo. Most shipboard systems — some 60 have been developed to date — mix and match different filtration methods, usually pumping water through filtered pipes. Then they treat the ballast water with chemicals or ultraviolet light.
New action this week by the State of New York underscores the need for national standards to address the issue of ballast water treatment, notes Erik Hromadka, CEO of Global Water Technologies.
The Coast Guard points out that a network of onshore treatment centers for ballast water has not been developed. Even if it were, said Richard Everett, the project manager at the Coast Guard's Office of Operating and Environmental Standards, "It's a question of whether we can require a ship to discharge to shore." Dr. Cohen said he and other colleagues on a panel advising the E.P.A on the issue had told the agency that the panel did not think present shipboard technology to be the best treatment, in part because land-based technologies can be more effective.
The shippers themselves prefer a single worldwide standard. Paul A. Londynsky, vice president for safety, quality and environmental affairs at the Matson Navigation Company, which is based in Oakland, Calif., said: "We go to multiple jurisdictions, multiple destinations. The idea of having a single standard to meet is much better."
"We think what the Coast Guard is proposing is very reasonable and certainly very achievable over time," Mr. Londynsky added. One Matson ship has been working with a new onboard system for cleaning ballast water; Mr. Londynsky said the current generation of ships had no mechanism for discharging ballast to a shore-based site for filtering.
Whether or not onboard systems are optimal, large international companies have already sunk considerable capital into developing them. "There's a huge investment gone into getting that right, getting that system within the tight space," said Frederick Royan, a research analyst at the market research firm Frost & Sullivan.
The new standards from the Coast Guard, the E.P.A. and the International Maritime Organization are expected to spawn a booming global market in such technology, the firm says. Frost & Sullivan predicts that ballast-water management technologies and their corporate backers will compete for an estimated $35 billion in sales over the next decade as the rules take effect.
The E.P.A.'s standard is likely to be made final later this year; the international standard has yet to muster the required support from 30 countries representing 35 percent of the world's shipping tonnage.
"It's a huge cottage industry waiting to happen," said John Berge of the Pacific Merchant Shipping Association. "Whoever can come up with the best mousetrap certainly has a lot of business opportunities."
Regardless of the financial implications, Tom Nalepa, a biologist working with invasive species on the Great Lakes, is worried about the biological ones if the rule is inadequate.
The chief threat on his mind is Dikerogammarus vellosis, an aggressive freshwater shrimp that feeds on other shrimps and disrupts food webs. Native to Eastern Europe, it has made its way to Western Europe in recent years. "Dikerogammarus vellosis is a killer shrimp," he said. "If that gets into North America and the Great Lakes, it's going to cause as many changes as the zebra mussel."
link Invasive Species Target of New Ballast Water Rule – NYTimes.com.