You are currently browsing the tag archive for the 'Pier 25' tag.
Want to stay on the oldest known ferryboat in the country? Dine on a table suspended from the ceiling on the passenger deck? Well you can on the historic Ellis Island ferry boat Yankee, berthed across the Hudson River from the Empire State Building in Hoboken, NJ.
photo: Navid Baraty via the NY Daily News
Yankee was built in 1907 in Philadelphia by Neafie & Levy. Early in her career, she was known as Machigonne. The steel hulled ferry, said to be luxurious for a day-vessel, began ferrying passengers between Portland, Maine and the Calendar Islands in Casco Bay. At the start of America's involvement in World War 2, she was commissioned as USS Machigonne (SP-1043) by the U.S. Navy and used to transport men and supplies between Boston and Bumpkin Island Training Station.
After the war, she returned to commercial service ferrying new immigrants from their ocean-going ships to Ellis Island. Many are said to have had their first glimpse of New York City from the decks of Machigonne. After decades of service in various ferry and tour boat incarnations, she fell victim to neglect and vandalism.
She was rescued by Jim Gallagher in 1990, she was towed to Pier 25 where he began restoring the dilapidated vessel. After 12 years of restoration, he handed the wheel over to Victoria and Richard MacKenzie-Childs who for the past 9 years have been lovingly transforming the historic ferry into a luxurious houseboat.
photo: Navid Baraty
From the New York Daily News: Victoria and Richard MacKenzie-Childs have salvaged an iconic ferry from retirement, infusing it with décor rich enough to match its history.
The revamped Yankee boasts five bedrooms, 16 bunks, on-deck chickens, an Apple computer beside the old-school steering wheel, an expansive dining room and bohemian/artistic furnishings everywhere.
Docked near Hoboken's Sinatra Drive on the Hudson River, the boat offers an unobstructed view of New York City. The ship is one of the nation's oldest known ferryboats and landed a spot on the National Registry of Historic Places. Read more…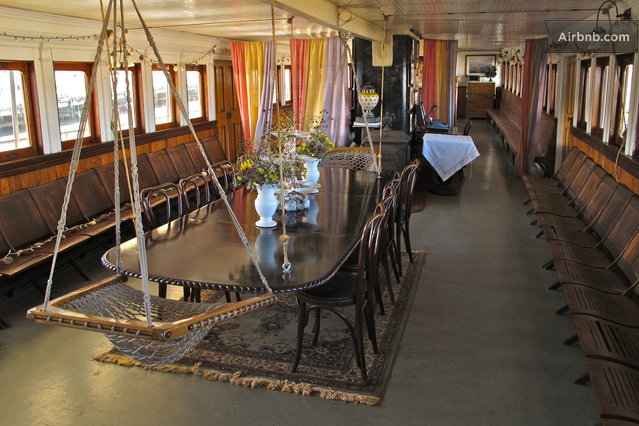 From the Daily Mail: After bringing the boat back to life, the artists have thrown down the gangway to welcome guests to spend a night on-board. While it may not have all the amenities of a traditional hotel, the boat undoubtedly provides plenty of dinner party conversation.
You can now rent the entire vessel for events, parties or for the family vacation. Sleep on the 107-year old vessel that served in both world wars, ferried hundreds of immigrants to Ellis Island, and countless others along the North East coast. See details and more photos here.
by Mai Armstrong for Working Harbor Committee
This weekend, historic places competing for grant money in the Partners in Preservation Program – will be opening their doors on May 5 & 6, 2012 for NYC Open House Weekend. There will be special events, behind-the-scenes tours and much more!
Tug Pegasus and the Waterfront Museum Barge (Lehigh 79) at Pier 25 (North Moore Street)
David welcomes visitors to the barge. credit Scott Baker
Come down to Hudson River Park Pier 25 (North Moore Street) for open house festivities all weekend. Tug Pegasus and the Waterfront Museum (Lehigh 79) are open for tours, May 5 & 6 from 1 – 5 pm. Check out their special events scheduled through May 15th!
Intrepid Museum Growler Submarine Pier 86, W46 St and 12 Ave
USS Growler. credit: Max Smith
Visit Growler, meet former Growler crew members and explore submarine artifacts this weekend, May 5 & 6 from 10 am – 6 pm. Mention the secret password  at the ticket booth to receive 20% OFF for up to four (4) people.
Staten Island Museum @ Snug Harbor
Firemaking the Lenape way at the Staten Island Museum
Activities include nature walks, open galleries and archives, live music, Harbor in Bloom, from 10 AM – 5 pm, including plant sale, fruit and vegetable sale, an orchid show and children's crafts, May 5 & 6 from noon – 5 pm.
Don't miss this opportunity to join in the festivities and check out your favorite historic places. See the complete list of participants here, and don't forget to vote everyday for your favorite!
by Mai Armstrong for Working Harbor Committee
Fireboat John J. Harvey. credit: Bowsprite
Ever wanted to ride on a bona fide fireboat? Be on board as water shoots in high arches from her hoses? Well, on Sunday May 6th, you can!
From fireboat.org: Built in 1931, MV John J. Harvey, at 130 ft and 268 net tons, is among the most powerful fireboats ever in service. She has five 600 HP diesel engines, and has capacity to pump 18,000 gallons of water a minute. Her pumps are powerful — enough so that when she and the George Washington Bridge were both brand new, she shot water over the bridge's roadway. She was retired by the New York City Fire Department in 1994 and bought at auction by her current owners in 1999. She was placed on The National Register of Historic Places in June 2000.
The Fireboat John  J. Harvey will be open for public tours at North River Pier 25 (N Moore Street)  this weekend, May 5-6, 2012 from Noon – 4PM. Steamer Lilac, Tug Pegasus and the Waterfront Museum Barge will also be open for this public event.
What's more, on Sunday May 6th, from 4 – 5:30PM, the Fireboat John  J. Harvey will give a free public trip on the harbor, from Pier 25 to the Statue of Liberty, and back up the North River returning to Pier 66 (W. 26 Street).
Fireboat John J. Harvey at the Statue of Liberty. credit: tugster
Keep a close eye on their website fireboat.org for details and reservations. Public trips are free, but reservations are required.
by Mai Armstrong for Working Harbor Committee