You are currently browsing the tag archive for the 'New York New Jersey Rai' tag.
New York New Jersey Rail is the city's last remaining floating railroad operating on our harbor. In 2008, the Port Authority of New York and New Jersey bought the car float operation that transports between Jersey City, NJ and Brooklyn, NY.
Cross Harbor Railroad in 2003. photo: Robert Simko/The Broadsheet
NYNJ Rail was known as the New York Cross Harbor Railroad from 1983 to 2006. Freight trains are not allowed in Amtrak's North River Tunnels, and the Poughkeepsie Bridge was closed in 1974, making it the only freight crossing on the Hudson River south of the Alfred H. Smith Memorial Bridge, 140 miles (230 km) north of New York City. NYNJ Rail operates between Conrail's Greenville Yard in Greenville, Jersey City and the Bush Terminal Yard in Bay Ridge, Brooklyn.
The 2.5 mile barge trip across the harbor takes approximately 45 minutes. The equivalent truck trip would be 35 to 50 miles.
New York Cross Harbor Railroad 65th Street Yard in Brooklyn.
photo: Jim Henderson
From the Wall Street Journal: Freight bound for Manhattan and Brooklyn had to float across on barges. In the 1960s, "car floats" were still skating across the harbor like bugs on a pond.
Then came new superhighways and trucks, trucks, trucks: Now all but 2% of the stuff New York imports rolls into town on rubber wheels. And nine-tenths of it crosses the Hudson on the George Washington Bridge.
The city's floating railroads were gone by 1975. Except for one.
It used to be called the Cross Harbor Railroad. Now, it's New York New Jersey Rail. It has nine workers, two locomotives, one old barge and a watery 2½ mile right of way across the bay to Brooklyn from a forgotten waterfront rail yard in Jersey City called Greenville.
On a breezy Tuesday, a train was about to shove off. A row of decrepit gantry cranes stood at water's edge. The Pennsylvania Railroad built them—in 1907—as the first electric "float bridges," marvels able to join tracks on land to tracks on the decks of barges. One of them still works.
In 1954, the Pennsy was launching 1,000 cars a day from Greenville. Today, NYNJR was launching nine.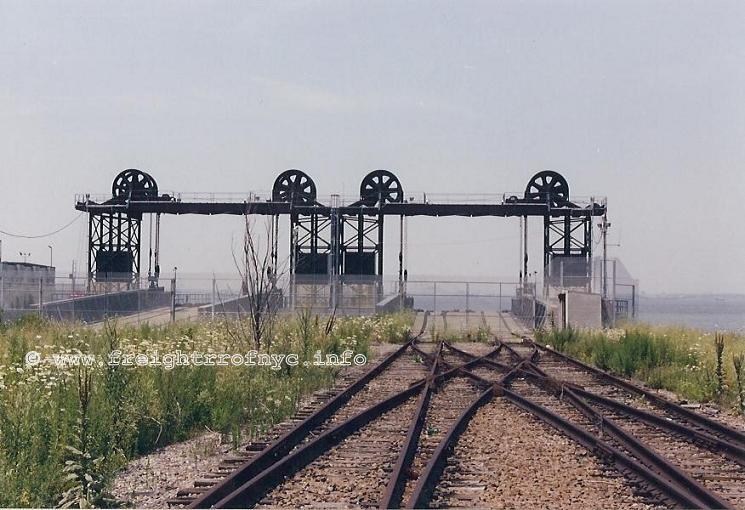 65th Street Yard Float Bridges – July 2006.  photo: P. M. Goldstein
In the late 90's, the City of New York rehabilitated the 65th Street Yard for car float operations with two lift bridges, but it was never turned over to New York Cross Harbor Railroad because of a money dispute. NYCH continued to use the single lift bridge at Bush Terminal instead.
NYCH had over $1.6 million in revenues in 2002, with shipments of cocoa from docks in Brooklyn as its largest line of business. But only 4 years later, the failing New York Cross Harbor Railroad was bought by Mid Atlantic New England Rail, who renamed it the New York New Jersey Rail. The Port Authority of New York and New Jersey acquired NYNJ Rail a couple of years later.
Tug and Cross Harbor Railroad car float. photo: Robert Simko/The Broadsheet
In 2010, the Port Authority approved the purchase and redevelopment of the century-old Greenville Yard, which forms the western terminus for New York New Jersey Rail. They also announced the building of a new barge-to-rail facility as well as improvements to the existing rail car float system. $118.1 million has been authorized for the overall project and focuses on replacing trash trucks with sealed rail containers, improving air quality and reducing truck traffic on Hudson River crossings.
From the Wall Street Journal: Given NYNJR's green advantages, it's no wonder that "it couldn't be left to die," as Mark Hoffer, a Port Authority official puts it.
When the new barge-to-rail facility is completed, it is expected to handle an estimated 60,000 to 90,000 containers of solid waste per year from New York City, eliminating up to 360,000 trash truck trips a year.
360, 000 trash truck trips a year. That's alotta trucks.
Municipal garbage trucks. photo: BriYYZ
From the Port Authority of NYNJ: A new barge-to-rail facility, to be built at Greenville Yards, will allow for municipal solid waste and other commodities to be barged from New York to New Jersey in watertight sealed containers and taken out of New Jersey by rail. Currently, the majority of New York City's waste is trucked through the Port Authority's Hudson River crossings in unsealed, open-topped trucks with fabric coverings and continues out-of-state using New Jersey's roads, causing negative environmental consequences, worsening traffic congestion, and overburdening the region's bridge and highway infrastructure.
New York Governor David Paterson said, "This barge-to-rail facility will be an extremely beneficial and environmentally conscious infrastructure improvement to the New York Metropolitan Region. We must continue to reduce truck congestion in our overburdened tunnels and on our highways to improve the quality of life for our residents."
East River tug and barge. photo: Mitch Waxman
Developing marine-to-rail operations could help lower more than just the number of garbage trucks on our roads. With this improved infrastructure, we could move a variety of cargo between the rail systems of New York and New Jersey via the water. It's more efficient and less polluting. A big 'WIN' for businesses and consumers and an even bigger 'WIN' for the environment and quality of life.
From the Wall Street Journal: The Port Authority talks of floating 25,000 freight cars a year on NYNJR someday. The number now: 1,500. The Axis Group, an auto distributor, is moving ahead with plans to import cars to Brooklyn on car floats, starting soon. What Brooklyn has to export is harder to say.
The exports Brooklyn has to offer now are scrap metal and construction debris. "Mostly, we come back empty," said Don Hutton, NYNJR's director, preparing to cast off for New Jersey.
by Mai Armstrong for Working Harbor Committee